Independent comparison analyses have found that cannabidiol (CBD) synthetically produced by Insys Therapeutics, Inc. is chemically identical to plant-derived CBD. Analyses were conducted independently by Insys and the National Institute on Drug Abuse (NIDA), part of the National Institutes of Health.
The two separately-conducted analyses ascertained that Insys' synthetically produced CBD:
— Has identical identity and chemical structure to plant-derived CBD;
— Has identical stereochemistry to plant-derived CBD; both demonstrated
the same (-) CBD enantiomer with no (+) enantiomer present, which was
confirmed by Chiral Assay;
— Is more pure, with a 2% higher CBD Assay value than plant-derived CBD;
— Insys CBD total HPLC purity 99.9% vs. plant-derived CBD at 98.7%; and,
— Meets all ICH impurity guidelines, with no impurities greater than
0.10%, vs. plant-derived CBD which contained multiple impurities above
ICH guidelines.
"The results of NIDA's analyses confirm those conducted in our laboratories, demonstrating that our CBD is identical in chemical structure to plant-derived CBD as determined by multiple methods," said Michael L. Babich, President and Chief Executive Officer of Insys. "We believe our product's purity levels will provide consistent material for our clinical programs, including our program to evaluate CBD in pediatric patients suffering from Dravet Syndrome and Lennox-Gastaut Syndrome. We plan to dose our first human subjects in the first quarter of 2015 in a Phase I setting."
For these independent comparison analyses, both organizations utilized NIDA-supplied natural, plant-derived CBD and synthetically produced CBD supplied by Insys. Insys' synthetic, pharmaceutical CBD is manufactured under cGMP conditions at its FDA-inspected and Drug Enforcement Administration (DEA)-approved facility in Round Rock, Texas, and therefore Insys manufactured CBD has greater batch-to-batch consistency and uniformity. Insys believes that it is the only U.S.-based company with the capacity to produce pharmaceutical cannabinoids in scalable quantities.
NIDA, a component of the National Institutes of Health, U.S. Department of Health and Human Services, supports most of the world's research on the health aspects of drug abuse and addiction. Insys has been approved as a qualified supplier of CBD to NIDA, and NIDA will refer CBD requests (from state agencies, research projects, clinical trials, etc.) directly to Insys.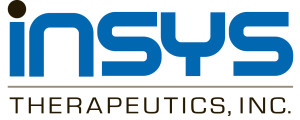 About Insys Therapeutics, Inc.
Insys Therapeutics is a specialty pharmaceutical company that develops and commercializes innovative drugs and novel drug delivery systems of therapeutic molecules that improve the quality of life of patients. Using our proprietary sublingual spray technology and our capability to develop pharmaceutical cannabinoids, Insys addresses the clinical shortcomings of existing commercial products. Insys currently markets two products, Subsys(R), which is sublingual Fentanyl spray for breakthrough cancer pain, and a generic version of Dronabinol (THC) capsules. Our lead product candidate is Dronabinol Oral Solution, a proprietary orally administered liquid formulation of Dronabinol. Insys is also developing a pipeline of sublingual sprays, as well as pharmaceutical cannabidiol.
Subsys(R) is a registered trademark of Insys Therapeutics, Inc.
Forward-Looking Statements
This press release contains forward-looking statements, including statements regarding Insys' pharmaceutical CBD development program, including timing of the planned clinical trial of a product related to CBD for Dravet Syndrome and Lennox-Gastaut Syndrome, the ability of Insys to provide adequate quantities of CBD sufficient to pursue its CBD development program, and Insys' capability to provide uninterrupted, domestic supply of CBD. These forward-looking statements are based on management's expectations and assumptions as of the date of this press release, and actual results may differ materially from those in these forward-looking statements as a result of various factors, many of which are beyond our control. For a description of these risks facing the company, please see the risk factors described in our filings with the United States Securities and Exchange Commission, including those factors discussed under the caption "Risk Factors" in our Annual Report on Form 10-K for the year ended December 31, 2013 and any subsequent updates that may occur in our Quarterly Reports on Form 10-Q. Forward-looking statements speak only as of the date of this press release and we undertake no obligation to update or revise these statements, except as may be required by law.
SOURCE: Insys Therapeutics