Arizona Bioindustry Association (AZBio) Partners with Digital RESI March 14-16th Offering "Seeing is Believing"
FREE Audience Access Pass to Members

Life Science Nation (LSN) is hosting an entirely digital event, Digital RESI March, 14-16th and is offering Arizona Bioindustry Association (AZBio) a special "Seeing is Believing" FREE Audience Access Pass program. This program is a first of its kind partnership between LSN and AZBio. The FREE pass is designed for startups who are not quite ready to pay for and attend partnering events but need to get a good idea about how to partner effectively.
How to get your Audience Access Pass FREE – use discount code "AZFREEAAP".
AAP does not include RESI partnering, but it will grant access to view all panels, pitch sessions, and 6 hours of entrepreneurial education courses. Perfect for those who are in very early stages or would like to learn more about how to launch a global partnering campaign. – Register Here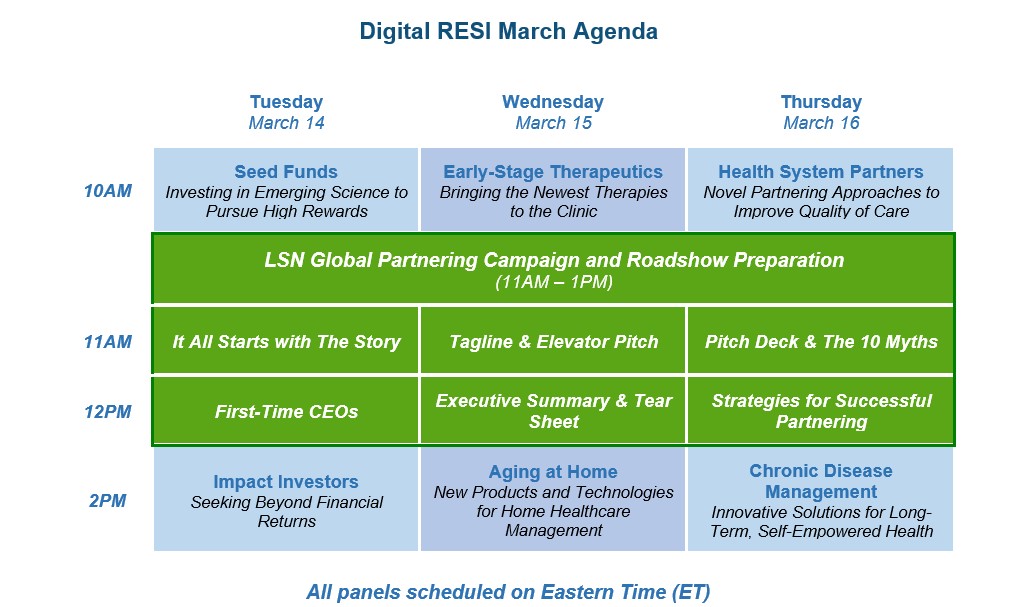 If you can't attend the live sessions on Zoom, they will be recorded and sent to all registered RESI attendees.
Entrepreneurial Education- Launching a Global Partnering Campaign
This program will offer a free Audience Access Pass (AAP) to its startup members who want to take advantage of the Digital RESI Entrepreneurial Education Program which are six one-hour courses over three days. The theme of the Education Program revolves around how to go from regional to global and launch an international roadshow for capital investors and licensing partners.
Investor Panels and Workshops
The Free Audience Access Pass also allows access to all the investor and licensing partner panels and workshops. This content provides insight from the international strategic partners who use LSN and RESI to source early-stage assets for their portfolios and product pipeline. Hear these strategic partners tell you how they source and evaluate startups and what the process takes.
Innovator's Pitch Challenge (IPC)
The Innovator's Pitch Challenge (IPC) takes place at every RESI conference and allows startups to do a pitch to a panel of investors and licensing partners that are a fit for their stage of development. Watching other startups who are prepared and ready to pitch to strategic partners will give Audience Access Pass recipients the ability to see firsthand how their colleagues tackle the preparation and pitching process. The IPC startups will pitch for 4-minutes directly to a panel of relevant investors, and participate in a live 8-10 minutes Q&A session.
About Life Science Nations (LSN), Redefining Early-Stage Investments (RESI) Events
RESI is held 5x per year and is the hot spot for early-stage life science companies (Drugs, Devices, Diagnostics, and Digital Health, and raising Seed to Series B under $50M USD) to begin meeting a global range of investors and strategic partners who may eventually become a part of current or future capital raises.
For questions, contact Erika Wu e.wu@lifesciencenation.com