Arbsource earns $150,000 from the Department of Energy for product development
The US Department of Energy (DOE) has awarded Arbsource a Phase I Small Business Innovation Research (SBIR) contract for $150,000. This money is designated for R&D to scale Arbsource's hydrogen-generating, economical wastewater treatment technology for the food and beverage industry. According to the DOE, Arbsource is among 64 SBIR awardees and the only winner from Arizona out of 764 proposals submitted nationwide. To date, Arbsource has raised a grand total of $230,000 in non-dilutive capital to design and deploy Arbcell pilot reactors for prospective customers in Arizona.
Arbsource's CEO, Mark Sholin, emphasizes the team aspect of this achievement and has high praise for the help he received from various sources. "First and foremost, I deeply appreciate the support provided by our technical team at the ASU Biodesign Institute, as well as professional assistance from Sharon Ballard with EnableVentures. She shared vital guidance on best practices for preparing a solid SBIR," Sholin said. EnableVentures Inc. works with the Venture Catalyst at Arizona State University to help companies write successful SBIR proposals, among other services.
Sholin is looking forward to starting the 9-month long Phase I work plan, but his team has their eyes set on a larger goal with the DOE. "Everyone at Arbsource is really excited about the Phase I contract, but the real value of our budding relationship with the DOE is to transition to Phase II of our award," Sholin said. He explains that a successful Phase II proposal will result in an additional $1,000,000 paid over two years to expand on research conducted in Phase I. On average, 50% of DOE Phase I recipients win Phase II funding to continue their work.
About Arbsource: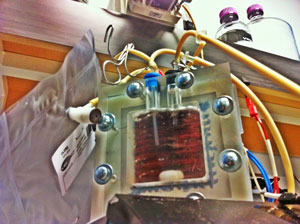 Arbsource uses biotechnology to transform wastewater treatment from a costly energy liability into a valuable resource for food and beverage companies. Breweries, dairies, potato snack makers, and many other food and beverage processors are burdened with tremendous costs managing their wastewater, often totaling six or seven figures every year in operations per facility.  For half the cost, Arbsource can  match treatment performance and generate valuable byproducts with our patent-pending and exclusively licensed Arbcell bioreactor.
Innovations in the wastewater treatment market are populated by many large companies and fellow startups, but we possess the fastest treatment speed of all low-energy biotreatment technologies by an order of magnitude and create more versatile treatment byproducts. With the Arbcell, we set the combined standard for treatment efficiency and plant economics by using up to 70% less energy to meet the same water quality and treatment speed benchmarks as conventional aerobic treatment products.
The 99% pure hydrogen output is a versatile treatment byproduct that sells for upwards of 100x more than methane gas, a common competitor byproduct. Caustic soda extracted from the Arbcell is a ubiquitous commodity that is used for the production of many food and beverage products. Arbsource offers all these benefits with a payback period of two years for typical customers.
The impetus to start Arbsource came from a group of students and faculty at Arizona State University with a vision of scaling and commercializing Microbial Electrolysis Cell (MEC) technology to upgrade status-quo biotreatment strategies. Since inception, our management team has worked diligently to recruit and solicit advice from industry professionals that extend beyond academia.
ASU remains a potent strategic partner by supporting further R & D and enhancing customer engagement in Arizona. Our young management team and employees are leveraged by an experienced and versatile business and science advisory board.
To learn more visit www.Arbsource.us