Stockdale Capital Partners, a Los Angeles-based, vertically-integrated real estate investment firm, is committing over $20 million on a major renovation plan to finish converting Ilume Innovation Center in Scottsdale, Arizona to be a fully lab-enabled life science facility. The renovation will also include several move-in-ready wet lab suites, and upgraded tenant amenities including a fitness center, 110-person capacity auditorium, meeting space, tenant lounge, and 1.5-acre rooftop garden.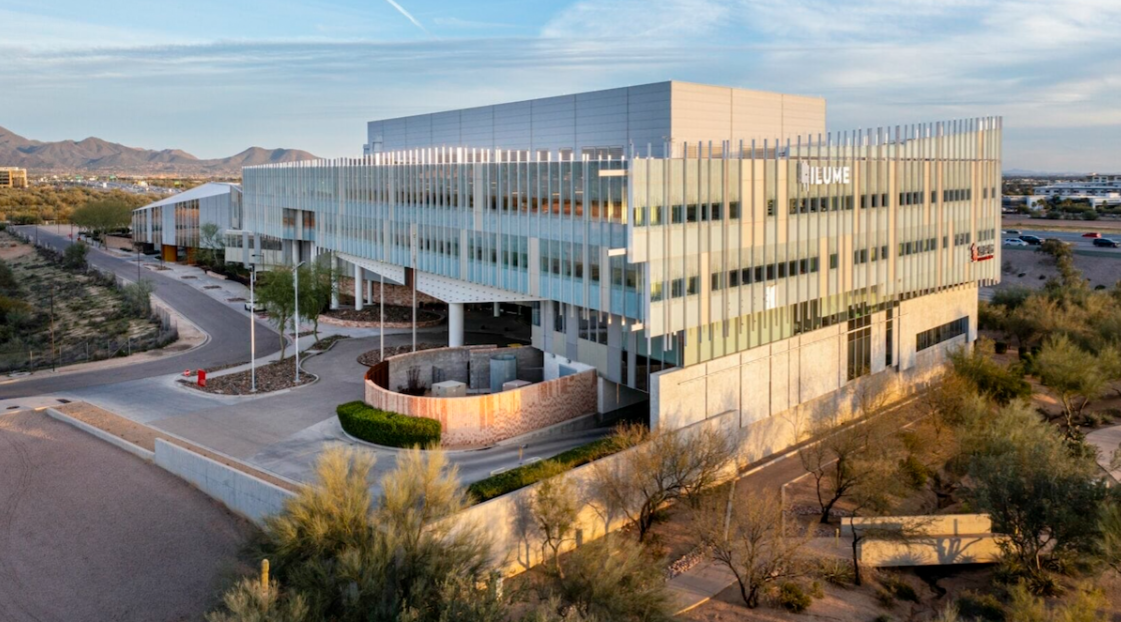 Ilume is a versatile 370,000 square-foot Class A, LEED-certified building able to serve life sciences, medical and office tenants. The building was originally designed by famed architect Will Bruder and served as the former Henkel North American headquarters.
In conjunction with its renovation plan, Stockdale also recently hired Cushman & Wakefield's life sciences broker team comprising Alexandra Loye, Scott Boardman, and Kristina Cutillo in Phoenix to handle leasing efforts for the transformed property.
Stockdale originally acquired the property, located at 19001 N Scottsdale Rd, in December 2019. The four-story building is primarily leased to life sciences tenants such as Systems Oncology, CommonSpirit Health Reference Lab, INanoBio Inc., along with 2023 BIG Innovation Award recipient technology firm GPS Insight. Ownership recently committed the new significant capital spend to accommodate the growing demand and needs for life sciences users in the area, together with synergistic office tenants.
Managing Director at Stockdale, Leo Divinsky shared, "As the innovation and life sciences ecosystem continues to rapidly expand throughout the region, Ilume Innovation Center combines award winning design, best-in-class infrastructure, and abundant project amenities with a Scottsdale location that enables changemakers to thrive in a workplace curated for discovery and scientific advancement."
"As the leasing team, Cushman & Wakefield is excited to be part of this spectacular project! We look forward to executing on Stockdale's vision of converting Ilume to a fully-lab enabled life science building and growing the life science ecosystem in North Scottsdale," said Executive Managing Director Alexandra Loye.
Ilume features a special 82-foot-high central atrium including an energy efficient "breathable" membrane skylight that feeds textured light into the core of the building. This feature allows 75% of all employee workspace to receive abundant natural light, which is filtered by a custom-fitted glass facade to reduce light intensity. The unique atrium design is considered the first-of-its-kind in the Western U.S.
Situated on nearly ±5 acres, Ilume is strategically positioned at the junction of N Scottsdale Rd and Loop 101 and provides immediate freeway access and convenience to major shopping centers, retail services, dining, and hotels. Situated in the Scottsdale Airpark submarket, the property is also accessible to a robust labor pool, corporate housing, and surrounded by corporate neighbors. The property is also near Mayo Clinic's proposed development, Discovery Oasis, a 120-acre medical and research campus including as much as 3.3 million square feet of medical and life sciences space, along with alliance Arizona State University's (ASU) Health Futures Center. According to ASU materials, Discovery Oasis will provide direct connections with ASU faculty, students, and entrepreneurial research-based initiatives.<
"Labor demand for life sciences remained robust in 2022 in the U.S. led by pharmaceuticals, followed by good manufacturing, practices, biology, data analysis, and clinical trials. And despite some headwinds, underlying fundamentals for the life sciences sector remain healthy," said Executive Director Scott Boardman. "Meanwhile the office sector has been impacted by the pandemic and a shift in remote and hybrid work."
"Ilume is a perfect example of creative ownership reimagining their asset from a single-user R&D/office building to a robust life science building with supportive office space," added Senior Associate Kristina Cutillo.
---
Republished with permission of AZ Big Media: https://azbigmedia.com/real-estate/stockdale-commits-20m-to-convert-ilume-into-life-science-lab/
DEEPER DIVE at AZ Big Media: Mapping 20 years of progress in Arizona's bioscience sector