Tallwave today announced it is opening applications in its latest High Tide(TM) competition to Healthcare IT entrepreneurs from across the country. These entrepreneurs will join peers applying for the program in the previously announced focus on innovations in Ed Tech. In addition, Tallwave has reserved four to six slots for Arizona-only IT companies regardless of the industry sector they hail from. The deadline for submission is March 31, 2014 and can be completed online at 
www.tallwavehightide.com
 .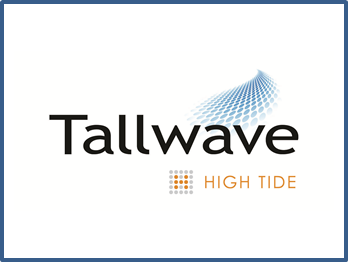 As a leading venture development firm and commercializor in the Southwest, Tallwave helps SaaS, E-Commerce and Digital Media and Marketing entrepreneurs build their early stage companies through sound capital strategy and well-executed go-to-market plans across multiple vertical markets.
High Tide Innovation Infrastructure
Tallwave also announced the addition of Arizona Technology Enterprises (AzTE) as a community partner supporting the company's efforts to connect Arizona's innovation ecosystem further with community partners who care about advancing entrepreneurship and investing in startups and buildups in the region.
"With the support of community partners, collaborators and advisors, Tallwave is connecting resources across the region that match entrepreneurs and their startups with what they need most when they need it," said Donna Kent, senior vice president, Venture Development for Tallwave. "By joining forces to create an engine of innovation built on the solid infrastructure already in place here in Arizona, we can compete on a global scale in the new economy."
"The High Tide competition promotes the commercialization of new approaches to solve every day problems through technology," said Augie Cheng, CEO of Arizona Technology Enterprises. "This intersects with AzTE's mission to expand the ecosystem of innovation in the American Southwest. The focus on Ed Tech IT is of particular interest for us as we seek to advance innovation in higher education, a hallmark of Arizona State University."
In addition to Arizona Technology Enterprises, Tallwave High Tide community partners include Greater Phoenix Economic Council and ASU, GPL, IBM, Citibank, and Cox Communications, who are all investing in technology as a key component of their strategic connectedness with economic development and their collective need for technology to spearhead a strong economy.
In the Arizona entrepreneurial ecosystem, Tallwave continues to rally supporters like Cancer Treatment Centers of America, Parchment, Bryan Cave and Silicon Valley Bank to name a few. Through this effort, Tallwave has assembled a world-class board of advisors that will serve as invaluable resources to the current High Tide program and its entrepreneurs.
"Strategic Partners who want to drive ecosystems of collaboration are key to weaving the good for the greater whole," said Ian Steinberg, Business Development IBM. "We are bringing High Tide into the IBM Centers of Excellence for Healthcare strategic initiative in parts of the country outside of the Southwest because of the extraordinary work Tallwave is doing to accelerate innovation. This will quickly expand to other sectors that are vital to the challenges facing our society. There has never been a better time to apply Tallwave's expertise in our own public-private partnership efforts to make healthcare systems smarter."
Program Details
In exchange for six percent equity provided to the Tallwave Commercialization Fund, up to 12 companies will be selected for inclusion in the Tallwave High Tide program. At the culmination of the six month program scheduled to kick-off May 1, two of the participants will receive $45,000 cash in the form of a convertible promissory note.
The selected entrepreneurs and their startups will proceed through rigorous validation, acceleration and commercialization boot camps, move-the-needle competitions and local, regional and national investor pitches in "pass/fail" scenarios. More information about the program can be found at http://www.tallwavehightide.com/ .
About Tallwave:
Tallwave is a commercializor.
Headquartered in Scottsdale, AZ, with offices in San Francisco and Los Angeles, the company creates and maximizes commercial success and shareholder value for entrepreneurs and investors by validating, scaling and managing early-stage and growth ventures with a hands-on approach.
The combination of Tallwave's proprietary lean Business Blueprint(TM) system for product and company validation, and go to market strategy; its unique Operator Model(TM) for resource development and management, and the access to pre-seed through series A capital Tallwave makes available, sets the company apart from incubators, accelerators and venture capital firms whose business models limit the range of resources they provide.
About Arizona Technology Enterprises
Established in 2003, Arizona Technology Enterprises (AzTE) is a wholly-owned subsidiary of the Arizona State University Foundation for A New American University. Over the last ten years Arizona Technology Enterprises has supported the development of approximately 70 ASU spinout companies. Comprising industry and university veterans, AzTE brings together ASU's researchers and industry partners to transform discoveries into marketable products and services, taking innovation out of the lab and into the commercial marketplace. For more information, visit: www.azte.com .
For more information about Tallwave, visit www.tallwave.com .