As the voice of Arizona's Biotech and Medtech industry, AZBio shares information about our community and our innovators locally, nationally, and globally.
We call it the "Who Knew Effect", that moment when we are speaking with someone and sharing stories about the life changing and life saving innovations being discovered, developed, and delivered in Arizona. Then we hear, "Wow. Who Knew."
These conversations matter. Without them, the resources, support and investment that are needed to grow our life science sector are harder to find.
AZBio uses a multi faceted communications strategy to to get the message out about life science opportunities in Arizona. By using a blend of one-on-one conversations, online communications, print media relationships, events, and even television, AZBio is spreading the message about the impact Arizona's life science sector makes on health, our economy, and the lives of people across our community.
Connecting Our Community
Each Monday, the AZBio In the Loop newsletter is delivered to thousands of subscribers locally and nationally. It provides a quick look at the most recent news, updates on events and opportunities, job postings, and more. It provides a quick look into what is happening with links where readers can learn more on the subject. Subscriptions are open to everyone, with or without AZBio Membership.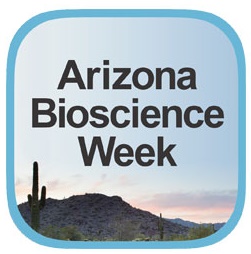 AZBioPEERS provides insights and information that life science entrepreneurs need to succeed. Sessions began in person during 2019, and shifted to online during the pandemic. AZBioPEERS session recaps are posed on AZBio.org so that the information is available for later reference.
AZBio Events and Workshops provide opportunities for Arizona life science community members and champions to come together to share ideas and celebrate success. Arizona Bioscience Week (AZBW), now in its sixth year, brings together innovators, investors, educators, students, and elected leaders. The AZBio Awards during AZBW, has been bring our community together to celebrate success and share our stories for 17 years.
Attracting Resources
Life science innovation and the process of bringing new products and services out of the lab and into the hands of the people who need them requires resources, investment, and talented people to work in our companies.
The AZBio Career Center provides jobseekers and growing companies the ability to connect. It also provides tools for members of the community to manage their career path. AZBio posts key positions from the career center on In the Loop each week along with the number of positions available. This serves a dual purpose, connecting talent with employers and reinforcing our industry's image as a jobs creator.
Access to capital is essential as our companies grow. Raising awareness of the opportunities in our region with investors is one of AZBio's key communication activities. This includes hosting the White Hat Life Science Investor Conference in Arizona every two years to bring companies and investors together; regularly connecting with local and national investment groups to talk about Arizona companies that may fit with their investment profile; and working with AZBio Member Companies so that they are ready for these important conversations.
Reaching a larger audience
Communicating with each out, inside of our industry is essential. Raising awareness on the impact our industry is making with people across Arizona who are not working in our industry every day is equally important. We need their support.
That is why AZBio forms media partnerships with key publications as a trusted source for information on our industry and publishes the AZBio Special Supplement in AZ Business Magazine. With a reach of over 25,000, business readers in print and over 122,000 online, this publication raises awareness across Arizona's business community.
We also learned an important lesson when we converted the AZBio Awards to a 1-hour television special, Celebrating Life & Science. Television was a way to extend our communications reach exponentially. In 2021, AZBio launched its Sonoran Living Health Innovation Spotlight campaign with ABC15. Each segment provides health information that benefits the public, and shines a spotlight on an AZBio Member company's innovation.
And with thousands of pages of stories about AZBio Members, AZBio.org is at the is top of the page when anyone searches the web for information on Arizona Biosciences and Arizona Biotech.
Sharing your story
Sharing your story with AZBio is a great way to amplify your company's message.
Here are the ways that you can help AZBio share your story:
Keep your AZBio Membership current. AZBio's online member directory is the place to be seen and get connected. The designated member for your company should login regularly to ensure that information on your company info is up-to-date.
Looking for investors? Make sure that AZBio has your current non-confidential one-sheet. That whey when we are speaking with investors or potential strategic partners we have your info to share. With your permission, we can also include one-sheets for AZBio Members as an Arizona Bioindustry Asset in our partnering system profiles at investor conferences like BIO, The Medtech Conference, Biotech Showcase, RESI and more.) Simply send your one-sheet to AZBio.
Looking for talent? Post your open positions on the AZBio Career Center. 30-day standard job posts are free for AZBio Members.
Got News? AZBio Members are encouraged to send press releases to AZBio for posting on our website and on In the Loop.
Get Noticed. Nominate your company or a team member for the AZBio Awards.
Participate in AZBio Interviews and Surveys. To keep our message fact-based, AZBio reaches out to members for data and insights in key areas including workforce, company growth, public policy and more.