The Mayo Clinic and Arizona State University Alliance jointly launched the Scorpion Tank, a healthcare pitch competition.
This community-based healthcare pitch competition is an educational and promotional opportunity for emerging medical and health care companies in the Phoenix community.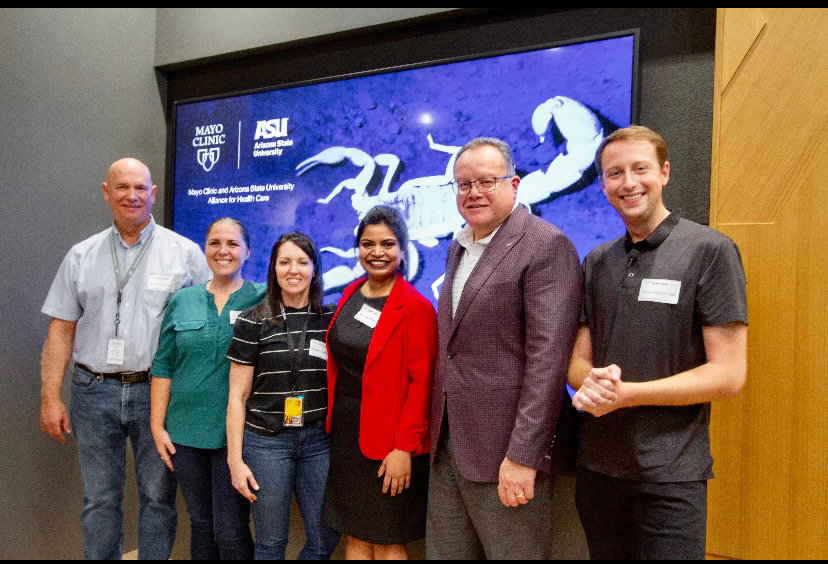 The inaugural Scorpion Tank event was hosted at Center For Entrepreneurial Innovation (CEI) Venture Cafe Phoenix Thursday gathering in downtown Phoenix. Dr. Sreedhar, Entrepreneurial Scholar at the Office of Entrepreneurship Mayo Clinic Arizona and Dr. Fonseca, Chief Innovation Officer for Mayo Clinic Arizona, gave a joint talk on "transforming the future of health care innovations through collaborations" and unveiled the Scorpion Tank logo.
This public-facing pitch competition offers startups focused on patient health care and front-line workers to pitch their innovation ideas or start-ups in the Phoenix community. The first pitch competition will take place in Fall of 2023.
For more information, contact Dr. Anu Sreedhar (sreedhar.annapoorna@mayo.edu) from the Office of Entrepreneurship at Mayo Clinic.