STEM education is one of the hottest topics in education and economics today.  To be globally competitive in the future, our nation and our industry needs to encourage and inspire students to pursue STEM careers and to support the teachers who are nurturing our future leaders.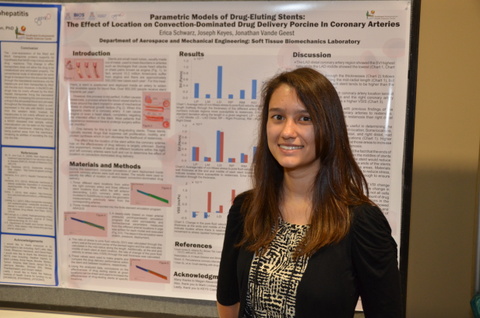 Today's STEM students have the potential to  become the scientists, physician-researchers, health IT developers, and bioscience entrepreneurs of tomorrow.
That is why, beginning in 2011, AZBio launched the Student Discovery Showcases at its  AZBio Expo and AZBio Awards events with the support of Northern Arizona University.   Since that time, over 80 posters have been selected to be displayed by students from Arizona high schools and  Arizona universities giving the students the opportunity to display and discuss their work with industry leaders and giving our community leaders a glimpse of our industry's future.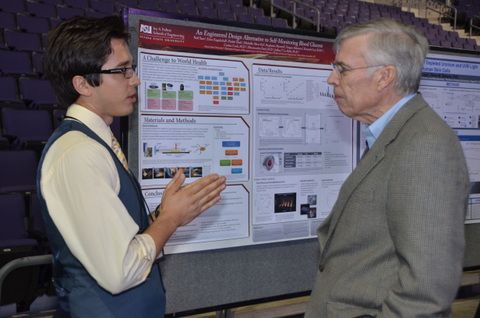 In addition to the opportunity to participate in the Student Discovery Showcase, the students receive the opportunity to attend the educational programs at these events and mingle with today's industry leaders.
Their research is also highlighted in the printed event programs with their name, school, and a  poster abstract.  These printed  programs are then shared year round with local and national leaders including industry executives, Arizona Legislators and Arizona Congressional Delegations, AZBio's national partners including BIO, PhRMA, and AdvaMed, along with representatives from leading patient advocacy groups in Washington, DC and at National Conferences.
This year, as AZBio celebrates its 10th anniversary as Arizona's statewide bioscience industry association at the AZBio Awards on October 10th, we will also mark another milestone with the 100th student poster being displayed.
All of us benefit from investing  time with our students and ensuring that Arizona continues to produce future bioscience leaders.
Here's how YOU can help:
Bioscience and Community Leaders

: When you attend the

AZBio Awards on October 10th

, come early or stay after to visit the student poster displays.  The showcase will be open from 10 AM – 11:30 and from 2 PM – 3 PM. The few minutes that you spend with a student learning about their work and  sharing your insights just might have a lifelong impact.

Bioscience Educators: Encourage your students to submit their posters for review by the selection committee. The deadline is September 1, 2013.  To learn more, please click here.
Students:  Submit your poster for consideration for this year's AZBio Awards.  Students selected to display their posters will have the opportunity to join industry leaders for Arizona's most exciting bioscience event of the year.