The world's top scientific minds will convene at Tucson's Hilton El Conquistador Resort February 25 and 26 to collaborate and share leading-edge developments in cancer diagnostics and treatment. The 10th Annual Tucson Symposium puts Tucson at the leading edge of cancer research, diagnostics and treatment, and promises to further the field of personalized medicine and positively impact medical practice all over the world. (PR Newswire: TUCSON, Ariz., Feb. 13, 2014 )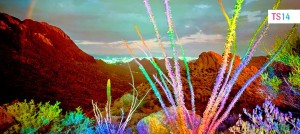 Each year Ventana Medical Systems, Inc. (Ventana), a Member of the Roche Group, sponsors the Tucson Symposium to provide a venue for thought leaders to share new ideas and scientific achievements in cancer research and medical practice.
James Allison, PhD, is a leading cancer researcher with the MD Anderson Cancer Center and will be giving this year's keynote address. Allison's research has led to the development of the first FDA-approved drug to extend survival for late-stage melanoma patients.
"I'm enthusiastic about setting the tone of this scientific program with a focus on the importance of immune therapy," he says. "Immune therapy is now becoming successful for patients only due to the collaboration of so many committed researchers, patients, clinicians and industry partners. It's great to see a unique venue like this Symposium bring together very different expertise to focus on common issues."
Each year, the Tucson Symposium has grown in size and stature.
Ventana founder Dr. Thomas Grogan remembers the event's first year. "Ventana was coming of age scientifically, and it was time for us to expand our intellectual horizons, multiply our inventive reach, and to learn what we did not know," he says. "We reached out to world-renowned researchers in pharmacology, oncology, cellular and molecular biology, chemistry and immunology."
Some 165 researchers participated in the Symposium's inaugural year. In 2013, that number grew to 480.
This year promises to be even bigger, drawing global scientific collaborators to drive advancements in pathology and oncology and improve patient care and treatment outcomes. Key research scientists, academics, oncologists and pathologists from the world's leading hospitals and research institutions are expected to attend.
Topics of discussion include the most current trends, therapies and medical findings in cancer diagnostics and treatment.
"The Tucson Symposium has endured the test of time," says Dr. Grogan. "It continues to draw scientific collaborators worldwide, sharing innovative approaches and breakthroughs that enable us to understand the pivotal role that scientific research and innovative diagnostic tests play in improving the quality of patient care."
About Ventana
Ventana Medical Systems, Inc. ("VMSI") (SIX: RO, ROG; OTCQX: RHHBY), a member of the Roche Group, innovates and manufactures instruments and reagents that automate tissue processing and slide staining for cancer diagnostics. VENTANA products are used in clinical histology and drug development research laboratories worldwide. The company's intuitive, integrated staining, workflow management platforms, and digital pathology solutions optimize laboratory efficiencies to reduce errors, support diagnosis and inform treatment decisions for anatomic pathology professionals. Together with Roche, VMSI is driving Personalized Healthcare through accelerated drug discovery and the development of "companion diagnostics" to identify the patients most likely to respond favorably to specific therapies.
VENTANA and the VENTANA logo are trademarks of Roche.
CONTACT:
Jacqueline Bucher Sr. Director, Corp. Communications Ventana Medical Systems, Inc. Tel 520.877.7288 o Tel 520.468.9145 m Jacquie.bucher@ventana.roche.com SOURCE:  
Ventana Medical Systems, Inc.