Dr. Von Hoff is honored for advancing FDA approved treatment benefiting pancreatic cancer patients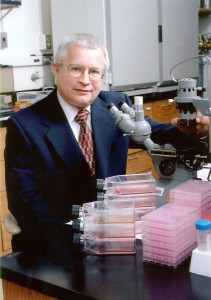 PHOENIX, Ariz. — Feb. 13, 2014 — Dr. Daniel D. Von Hoff, Distinguished Professor and Physician-In-Chief of the Translational Genomics Research Institute (TGen), will be inducted today into the Joshua Lederberg Society for his work in developing the drug Abraxane for advanced pancreatic cancer patients.
The Lederberg Society is named for the late Dr. Joshua Lederberg, a Nobel Prize laureate and leader in bacterial genetics whose expertise and guidance played a key role in the birth of Celgene, a global biopharmaceutical company that produces Abraxane.
Dr. Von Hoff, who is considered among the nation's leading authorities on pancreatic cancer, will present a talk during his induction ceremony at 1 p.m. ET today at Celgene headquarters in Summit, N.J. This is the 7th induction ceremony of the Lederberg Society, which annually honors no more than two new members whose work has changed the practice of medicine.
"Dr. Von Hoff's life long achievements in pancreatic cancer treatment and research are truly remarkable, but even more remarkable is his commitment to the patients who benefit from his tireless efforts on their behalf," said Dr. Jeffrey Trent, TGen President and Research Director. "I can think of no one more deserving of this award than Dr. Von Hoff."
Dr. Von Hoff was the principal investigator of MPACT (Metastatic Pancreatic Adenocarcinoma Clinical Trial), a multi-year international study involving 861 patients, at 151 community and academic centers in 11 nations in North America, Europe and Australia.
The study, whose findings were published Oct. 31 in the prestigious New England Journal of Medicine, found that Abraxane (nab-paclitaxel), when combined with the previous standard therapy, gemcitabine, significantly improved overall survival, progression-free survival, and drug response rates for patients with advanced pancreatic cancer. As a result of the study, the FDA on Sept. 6 approved Abraxane as a front-line therapy for such patients. In December, the European Commission also granted its approval.
"This is a new standard for treatment of metastatic pancreatic cancer that could become the backbone for other new treatment regimens," said Dr. Von Hoff at the time of the FDA approval. "The fact that Abraxane plus gemcitabine demonstrated an overall survival benefit is a significant step forward in offering new hope for our patients."
Abraxane wraps traditional chemotherapy, paclitaxel, in near-nano sized shells of albumin, a protein that the tumor could recognize as food. Once inside the tumor, the Abraxane may act like a "Trojan Horse" to release chemotherapy and kill the cancer cells.
Dr. Von Hoff also was the principal investigator for the first clinical trial of gemcitabine, the first therapy to show improvement in survival for patients with pancreatic cancer. The FDA approved gemcitabine in 1996.
The pancreas is a glandular organ behind the stomach that secretes enzymes to help digestion, and produces hormones, including insulin, which helps regulate blood-sugar metabolism.
# # #
About TGen
Translational Genomics Research Institute (TGen) is a Phoenix, Arizona-based non-profit organization dedicated to conducting groundbreaking research with life changing results. TGen is focused on helping patients with cancer, neurological disorders and diabetes, through cutting edge translational research (the process of rapidly moving research towards patient benefit).  TGen physicians and scientists work to unravel the genetic components of both common and rare complex diseases in adults and children. Working with collaborators in the scientific and medical communities literally worldwide, TGen makes a substantial contribution to help our patients through efficiency and effectiveness of the translational process. For more information, visit: www.tgen.org.
Press Contact:
Steve Yozwiak
TGen Senior Science Writer
602-343-8704
syozwiak@tgen.org