Frederick Zenhausern, a former nanobioscience researcher at the University of Arizona, is starting a company to develop a DNA test to catch criminals.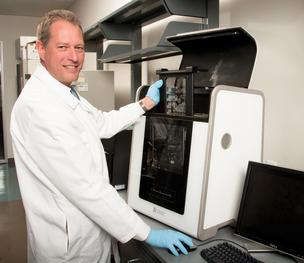 At the time, he was director of the Applied Nanobioscience Center at Arizona State University.
He got as far as creating a prototype that he submitted to different police forces in Germany, Austria and the Netherlands. Plans were on track for FSS to commercialize the technology, until the government shut down the service in March 2012.
The problem was that FSS owned the technology portfolio.
Lucky FSS sold the portfolio, allowing Zenhausern to bring the technology back to Arizona.
Now, as director at the Center for Applied Nanobioscience and Medicine at theUniversity of Arizona, Zenhausern hopes to commercialize the technology. He moved to UA in 2009 and operates a huge research lab at the Chandler Innovations Incubator.
His research was ahead of the curve when he was with ASU. Since then, three other competitors have emerged nationally, one of which is owned by General Electric and another owned by Lockheed Martin.
"There's a lot of need for that technology, and we believe we have a platform that can do those kinds of DNA forensic tests," he said.
This type of technology was used to find Osama Bin Laden, he said, using a blood sample that can be loaded into a microfluidic cartridge that processes the sample automatically.
The same platform can be used in the medical diagnostics field, he said.
"We would like to start a small company here in Arizona and see if we can raise capital or get a partnership," he said.
Joan Koerber-Walker, president and CEO of the Arizona BioIndustry Association, said Zenhausern's work is an example of how technology developed in one area can infiltrate others, creating a platform that multiple innovations can be built upon.
"The instruments and the systems they have developed are gaining global recognition both for applications in forensic science and health applications alike," Koerber-Walker said. "As these applications continue to develop, new products in multiple markets can be the result."
Senior Reporter-Phoenix Business Journal

Angela Gonzales covers health, biotech and education.