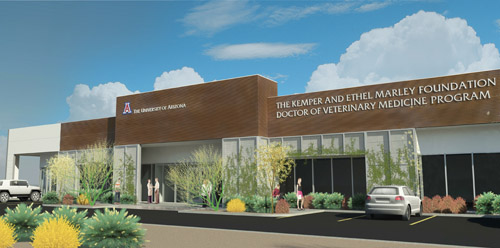 Designed to directly address the veterinary needs of Arizona that have been  identified by our community, the UA College of Veterinary medicine programs will address the veterinarian shortages in rural communities and tribal nations; improve animal and public health; provide for border security needs; and make Arizona more attractive to animal production, retail, biomedical and bioscience companies.
The UA is requesting $8 million in FY17 to fund facilities and capital cost for the new Veterinary Medicine program in Oro Valley.  This investment will enable 60 high pay jobs and establish a $24 million program that will develop well-trained veterinarians for the state's agricultural and bioscience industries.
The most recent report filed by the Arizona Department of Agriculture with USDA for the Veterinary Medicine Loan Repayment Program demonstrated a veterinary shortage in all 15 Arizona counties.  The UA program offers a solution to the anticipated veterinarian shortages, allowing Arizona's $17.1 billion agriculture industry to continue to thrive and building the talent base for Arizona's growing biotech industry.
Today's Students – Tomorrow's Workforce
A foundational pillar of the UA DVM Program is One Health, an approach to treating the health of humans, animals and the environment as interrelated in order to improve public health in our state. The unique program will attract students from across the nation bringing in new talent. Those who are trained in Arizona will likely remain and contribute to the state economy and to our agricultural and biotech industries.
The UA program will establish the state's first public Doctor of Veterinary Medicine program in the fall of 2016 and a Master of Science in Animal and Biomedical Industries. The UA DVM Program's pre-professional and professional curricula focus on training graduates to have a competitive advantage for these national and international opportunities.
Bioscience jobs pay 80% more, and have higher job security, than total private sector employment. Students who earn the M.S. in Animal and Biomedical Industries will be highly competitive for management positions, where there is a shortage of employees. Over the last decade, inflation-adjusted average bioscience wages have increased by 15%—three times that of the private sector as a whole. From the biotech workforce prospective, there is a greater demand for DVMs to work with food, or find employment in academia, federal civil service, state and local government, uniformed services, industry and corporate work. DVMs in these areas earn much more than in companion animal practice and this difference can equate to at least $500K over a career. The UA DVM Program will be the only AVMA-accredited curriculum that overtly trains students for these areas in addition to pet medicine and surgery
U.S. agriculture is a ~$157B business and animal agriculture is its biggest component. In Arizona, animal agriculture is a ~$8.5B business. There were over 52,000 annual job openings for new graduates during 2005-2010—and only 49,300 qualified graduates available. At the height of the "great Recession," median annual income was $61,230 compared with $34,465 for all jobs (U.S. Bureau of Labor Statistics, 2011)
If the recently signed Trans-Pacific Partnership is ratified, tariffs on beef in Japan alone will decrease from 40% to 0%, promising a powerful positive effect on U.S. beef exports. Four billion new middle-class meat consumers will come into the global marketplace by 2030.
Even at the height of the great recession, national unemployment for DVMs peaked at 2.1%—well under the "natural rate" of unemployment or "full employment" of 5.5%. There was a "negative unemployment rate" of 10 hours worked per week per DVM and the debt-to-income ratio for Millennials graduating with a DVM can be financially crippling.
Nationally, DVM educational debt in 2014 was $153,191 with a full-time job paying an average of $67K annually. Because all Arizonans now pay non-resident or private school tuition, the mean debt  identified by the UA in 2014 for recent graduates was $305K.  The UA program will be the first in the US to offer a full, accredited year-around curriculum that will allow students to graduate and enter the workforce more quickly and with less debt.
Making LIFE Better in Arizona Requires That We Invest in Arizona's Future
The value of any investment is measured by a simple equation.  Value=Benefit- Cost.   In this case, the cost of an $8M capital and facilities investment yields:
Workforce for the state's largest legacy industry and its fastest growing new economy industry as this investment will directly enable 60 high paying jobs and establish a $24 million program that will develop well-trained veterinarians for the state's agricultural and bioscience industries.
Educational cost advantages for Arizona Students through in-state DVM tuition for the first time
High quality employment opportunities which supports a stronger future tax base