TUCSON, Ariz. and MOUNTAIN VIEW, Calif. – On May 3, four startups founded on inventions based on University of Arizona research made their pitches at an accelerator in one of the nation's epicenters for technology and entrepreneurship: Silicon Valley.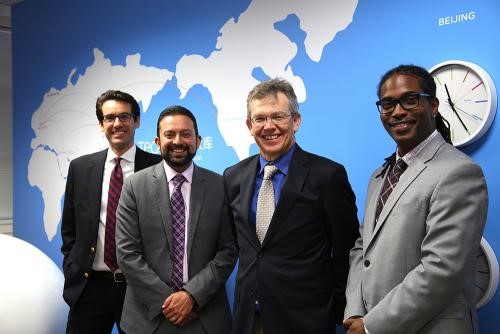 UA Life Science Innovators are all smiles after presenting to SV investors
Photo Credit: Paul Tumarkin, Tech Launch Arizona
The audience consisted not only of a live crowd at the TechCode offices; the pitches were live-streamed to TechCode network locations around the world, including China, South Korea, Israel and Germany.
Companies who joined the event to hear UA startups tell their stories included Amgen Ventures, Life Science Angels, BCG Ventures and others.
Tech Launch Arizona partnered with TechCode to plan and execute the event in collaboration with TechCode investment director Ted Kraus. Kraus graduated from the University of Arizona in 2003 with a BS in finance and entrepreneurship, and now serves as a volunteer Commercialization Partner for TLA.
"We've now opened the network," said Kraus. "This is what it takes – bringing startups together with lots of investors. I'm looking forward to more of this with Tucson and the UA."
In recent years, the University of Arizona has greatly increased its dedication to and activity in commercializing inventions stemming from research, and is garnering recognition as a leader in this area across the nation. One of the areas of focus for Tech Launch Arizona, the UA office focused on the work of commercialization, is the creation of high-quality, investable startups.
"We appreciate the hospitality and support of TechCode as we bring interesting UA biomedical technology to our friends in Silicon Valley and throughout the world," said David Allen, vice president of TLA.
In FY2016, TLA launched 14 startups – more than any previous year in UA history – and is on track to break that record again in FY2017.
Each company delivered a 10-minute presentation, followed by 5 minutes of questions and answers. Those that made presentations included:
Lancaster, who delivered the pitch for Avery Therapeutics, says going through this experience with all four teams was invaluable. "It shows depth beyond the pool of people we work with on a daily basis," he said. "We're all part of one cohort and we're learning from each other. I'm building a network of people I can work within the future."
Mike Sember, who used to live in Silicon Valley and now serves as a TLA mentor-in-residence, helping to coach and build UA startups. "It's a real testament to TLA and the UA to bring these four companies out here to Silicon Valley," he says. "This just hasn't been done before. We've improved the process, and now we're seeing the fruits of that work."
"Capital is fluid but information about interesting deals does not reach all sources of capital," said Allen. "This event is one of many roadshows TLA will pursue to help UA created startups reach sources of capital."

Media Contact:
Paul Tumarkin, MA, Sr. Manager, Marketing & Communications
Tech Launch Arizona, The University of Arizona
p: 520.626.8770
Connect: techlaunch.arizona.edu | Fast Forward Newsletter | @TechLaunchAZ