Congresswoman Kyrsten Sinema visits Phoenix Arizona based VisionGate to meet with employees and learn about this innovative life science company.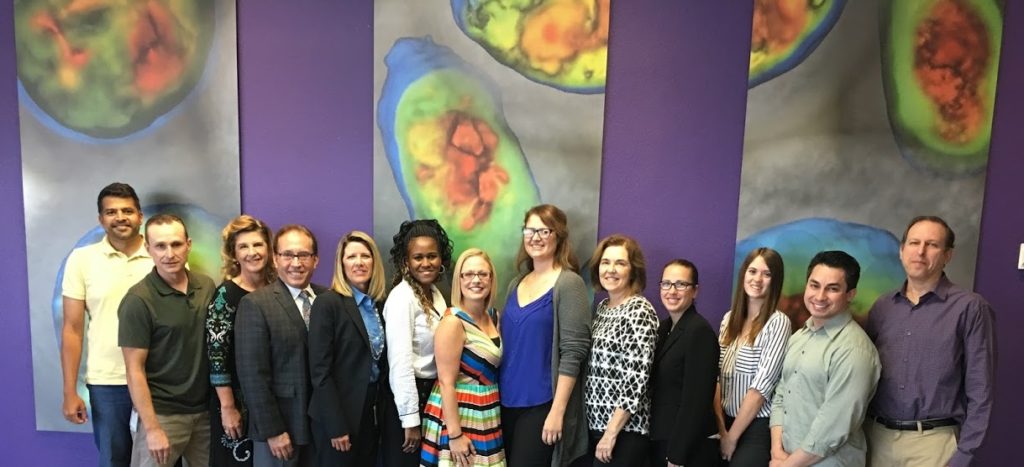 Lung Cancer is the number one cancer killer and VisionGate's team is on a quest to change that through early detection and with new strategies in development for prevention. This is the message that was delivered to Congresswoman Kyrsten Sinema, BIO 2017 Legislator of the Year and AZBio 2016 Public Service Honoree, during her visit on May 9, 2017.
The meeting was hosted by VisionGate and organized by AZBio. Jamie Gregorian of the Biotechnology Innovation Organization also traveled from Washington, D.C. to attend the meeting and learn more about the life-changing and life-saving innovations being developed in Arizona.
Designed as an opportunity for sharing ideas between life science innovators and our elected leaders, Congresswoman Sinema was provided with an update on the company's progress that was filled by a Q&A session with VisionGate employees were they had an opportunity to learn about what is happening at our nation's capitol from their elected representative including Congresswoman Sinema's Opportunity for Arizona plan.
Angela Gonzales of the Phoenix Business Journal also attended the update session and shared her take-aways with the community.
VisionGate raises $20M to target early stage lung cancer
Angela M. Gonzales for the Phoenix Business Journal (Reposted with Permission)
VisionGate Inc. has raised $20 million, including an investment from Trinnovate Ventures, a subsidiary of Blue Cross Blue Shield of Arizona. The money will be used to accelerate clinical trial programs for VisionGate's LuCED non-invasive diagnostic test targeting early stage lung cancer and Iloprost, a chemoprevention drug for patients who have pre-cancerous condition of the lungs called dysplasia.As part of this collaboration, Trinnovate Ventures was the lead investor for VisionGate's $20 million funding round.
Congresswoman Kyrsten Sinema, who visited VisionGate's Phoenix headquarters on May 9, said Arizona is lucky to be home to such an innovative company. She introduced the Fostering Innovation Act to ensure costly regulations don't stand in the way of success for companies like VisionGate. She also is working to expand the definition of accredited investor so that individuals with expertise related to a particular business are able to invest and help them grow.
VisionGate employs 34 people at its Phoenix and Seattle operations.
Plans call for growing to upwards of 50 employees by the end of the year or first quarter of next year, said Scarlett Spring, president and chief commercial officer of VisionGate.
She said the average annual salary of VisionGate employees is more than $70,000.
This time last year, Alan Nelson, founder and CEO of VisionGate, was named a National Academy of Inventors 2015 Fellow. With 139 patents under his belt, Nelson developed the Cell-CT, the first technology with the ability to view cells in their 3D state, allowing for earlier disease detection.
While he developed the test to detect lung cancer in its earliest stages, he said the test also would be useful for other cancers.
He said he eventually plans to take the company public and employ upwards of 200.
Angela Gonzales covers health, biotech and education for the Phoenix n Businessb Journal.