The American Chemical Society (ACS) has selected AZBio member Wilma Amaro, a chemistry teacher at Pueblo Magnet High School, as the Western Region recipient of the Stanley C. Israel Regional Award for Advancing Diversity in the Chemical Sciences.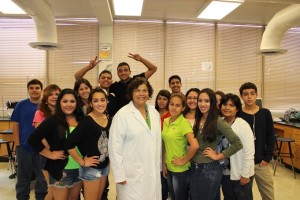 This award "recognizes individuals who have advanced diversity in the chemical sciences and have stimulated or fostered activities that promote inclusiveness within the region." Ms. Amaro received a medal and a $1,000 grant to support further activities. She received this award at the October Western Regional ACS Meeting in Santa Clara, California.
Throughout her 25 year career at Pueblo Magnet High School, Ms. Amaro has engaged learners through challenging courses including dual enrollment college chemistry, chemistry, and chemistry with language support. As Science Department Chairperson she developed activities such as Science Night and Science Peer Tutoring.
Earning awards for her excellent, yet compassionate teaching is not new for her. Ms. Amaro recently earned Southern Arizona's Excellence in High School in 2012.
" Ms. Amaro continues to be a sparkling jewel in our Science Department" states Andrew Lettes, Ph. D., the Biotechnology teacher at Pueblo. "Her dedication, high standards, and caring for students inspires me every day. I am so proud of her."