The Arizona Bioindustry Association will honor Avery Therapeutics Inc. with an AZBio Fast Lane Award at the 2017 AZBio Awards. Arizona life science and business leaders as well as guests from across the country will be on hand to applaud the Avery Therapeutics team for their progress in developing a novel lifesaving medical device to address heart failure.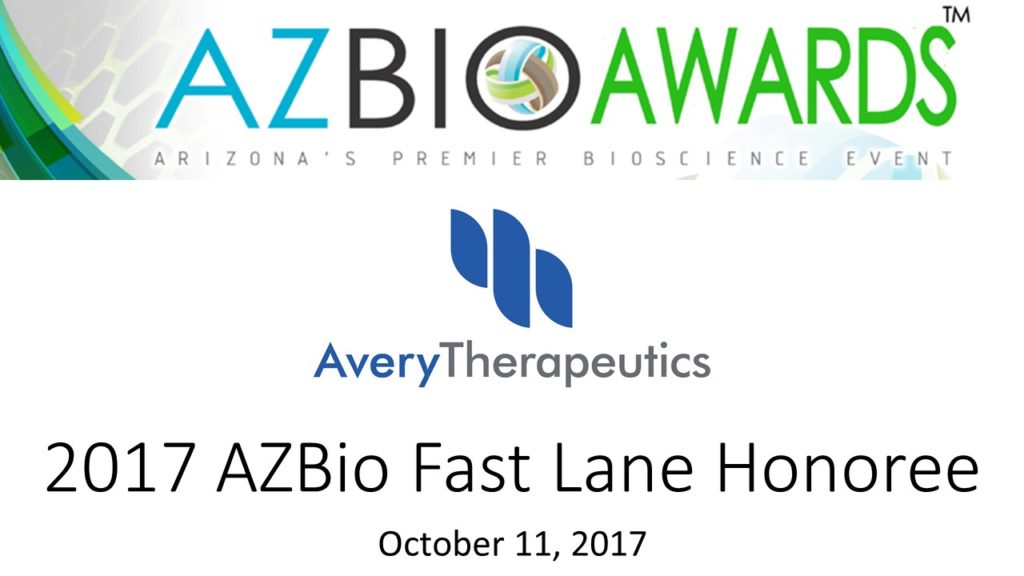 More than 26 million people worldwide suffer from heart failure. It is the number one cause of morbidity and mortality in the developed world. In the U.S., heart failure results in over $39 billion in treatment costs annually and there are more than 600,000 new cases of heart failure each year.
The progression of heart failure results in a 50 percent mortality rate within 5 years of diagnosis. But what if it didn't have to be like this?
That is a question being addressed by the team at Avery Therapeutics. The startup company is based on the application of research from the University of Arizona. With help from Tech Launch Arizona, the office of the UA that commercializes inventions stemming from research, Avery Therapeutics licensed a beating heart graft technology invented at the UA College of Medicine – Tucson. Pre-clinical studies already have shown that the technology, called MyCardia™, improves heart function.
After it has FDA approval, doctors will be able to use MyCardia to treat heart failure by regenerating new heart cells and thus restoring heart function. Today, no other technology does this except for heart transplantation.
MyCardia is a cardiac graft containing human induced pluripotent stem cell-derived cardiomyocytes and human neonatal dermal fibroblasts on a bioabsorbable scaffold.
MyCardia utilizes Nobel Prize-winning induced pluripotent stem cell technology and can be cryopreserved so it can be stored in the hospital, ready to use.
Moving forward faster
MyCardia has the potential to stop the progression of heart failure and improve patients' quality of life. It has demonstrated improvements in heart function in pre-clinical models at levels that would translate to a significant improvement in quality of life for patients with heart failure. Avery Therapeutics currently is on track to start clinical trials with MyCardia in 2020.
The inventors, Steve Goldman, MD, professor of medicine at the UA Sarver Heart Center, and Jordan Lancaster, PhD, who earned his doctorate in physiology from the UA College of Medicine – Tucson, serve as the company's chief medical and chief science officers, respectively. Avery Therapeutics' chief operating officer, Jen Koevary, PhD, earned her doctorate in biomedical engineering from the UA and previously was part of the team at Tech Launch Arizona.
The Avery Therapeutics team was awarded a Phase 1 Small Business Innovation Research (SBIR) award of almost $500,000 from the National Institutes of Health (NIH), a $750,000 grant from the Arizona Biomedical Research Commission, $60,000 in cash and prizes at Tucson's Get Started pitch competition in October 2016 and $575,000 from a first round of investment.
A ceremony honoring Avery Therapeutics, Inc., will take place at the AZBio Awards on Oct. 11 at the Phoenix Convention Center.
The AZBio Awards ceremony celebrates Arizona's leading educators, innovators and companies. Each year, AZBio honors bioindustry leaders from across Arizona who are illustrative of the depth, breadth and expertise of its bioscience industry. The AZBio Awards ceremony is held annually during Arizona Bioscience Week. AZBW 2017 was proclaimed by the Arizona Senate earlier this year. Multiple educational events focused on the value of life science innovation will take place from Oct. 8-14, including the BMES Annual Meeting in Phoenix. The Biomedical Engineering Society (BMES) is the world's leading society of professionals devoted to developing and using engineering and technology to advance human health and well-being. Attendees at BMES 2017 in Phoenix are expected to include nearly 4,000 professional scientists, engineers, researchers and students from academia and industry who are leaders in biomedical engineering.
###
For registration and more information, go to www.azbioawards.com
For more information on Arizona Bioscience Week, visit www.AZBio.org/AzBW2017
About AZBio
A key component in Arizona's life science ecosystem, the Arizona Bioindustry Association (AZBio) is the only statewide organization exclusively focused on Arizona's bioscience industry. AZBio membership includes patient advocacy organizations, life science innovators, educators, healthcare partners and leading business organizations. AZBio is the statewide affiliate of the Biotechnology Innovation Organization (BIO) and works in partnership with AdvaMed, MDMA and PhRMA to advance innovation and to ensure that the value delivered from life-changing and life-saving innovation benefits people in Arizona and around the world.
For more information visit www.AZBio.org and www.AZBio.TV
Contact:
Joan Koerber-Walker, Arizona Bioindustry Association
jkw@azbio.org 480-332-9636
Amanda Vega
Amanda@AmandaVega.com (480) 275-9797