Learn More:

Join us April 29, 2015 at the Sheraton Phoenix Downtown as we focus on clinical trials and what it takes to bring life changing innovations to patients.
Learn the latest updates from Arizona Bioscience Companies with products in the clinical trials process and the Life Science Leaders who support them.
 3:30 PM – Closing Keynote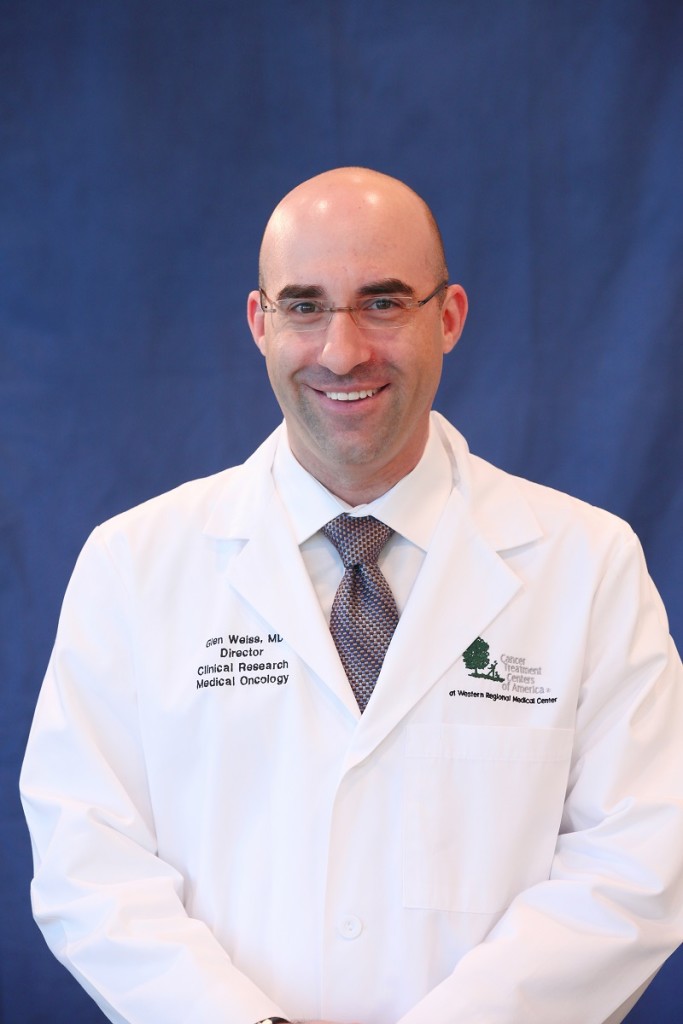 Glen Weiss, MD, MBA
Director of Clinical Research & Medical Oncologist
Western Regional Medical Center
Cancer Treatment Centers of America
The clinical research and trials program at Cancer Treatment Centers of America in Goodyear, Arizona has exponentially grown under the leadership of Dr. Glen Weiss. 
Join us to learn more about groundbreaking new trials taking place here in our state – trials utilizing chemotherapy and immunotherapy together to harness the body's own immune system. Also, hear about CTCA's vision for the future of cancer care.
About Our Keynote Presenter:
Dr. Glen Weiss is the Director of Clinical Research and Phase I and II Clinical Trials at Cancer Treatment Centers of America (CTCA) at Western Regional Medical Center in Goodyear, Arizona.
Dr. Weiss earned a medical degree from Sackler School of Medicine in Tel Aviv, Israel. He completed an internal medicine residency at SUNY-Downstate in Brooklyn, New York. He went on to finish a hematology/medical oncology fellowship at the University of Colorado Health Sciences Center in Aurora, serving as the Chief Fellow in his final year. He also earned a Masters in Business Administration from the W.P. Carey School of Business at Arizona State University.
Prior to joining CTCA, Dr. Weiss served as Director, Thoracic Oncology and Associate Clinical Investigator with the Virginia G. Piper Cancer Center at Scottsdale Healthcare. He is a Clinical Associate Professor and Co-Head of the Lung Cancer Unit of the Cancer and Cell Biology Division at the Translational Genomics Research Institute (TGen) in Phoenix, as well as, a Clinical Associate Professor at the University of Arizona College of Medicine-Phoenix. Dr. Weiss is also Chief Medical Officer of the CRAB Clinical Trials Consortium, a position he was elected to in 2011.
Board certified in medical oncology, Dr. Weiss has completed numerous clinical trials with investigational agents, a few of which have gone on to receive FDA approval for certain cancers. He has also received research funding from the American Cancer Society and the International Association for the Study of Lung Cancer, to name a few. He received a "40 Under 40" Award from the Phoenix Business Journal and was selected by AZ Business Magazine as a leader in healthcare.
Dr. Weiss has published over 200 peer-reviewed articles and abstracts in journals such as New England Journal of Medicine, Journal of Clinical Oncology, Clinical Cancer Research and Journal of Thoracic Oncology. He is on the editorial board of three journals, and has served as an ad hoc reviewer for over 10 science and medical journals. Dr. Weiss is also proud to have mentored a number of students over the years on laboratory or clinical research projects, with at least eight moving on to pursue medical degrees or PhD degrees in science. He has given over 50 invited lectures both nationally and internationally, including in Seoul, Korea; Rehovot, Israel; Orleans, France; Vienna, Austria and Budapest, Hungary.
Cancer Treatment Centers of America® (CTCA) at Western Regional Medical Center (Western) is located in Goodyear, Arizona, just 25 miles from Phoenix. Western serves the Western United States, including the major metropolitan areas of Phoenix, Denver, Los Angeles, Las Vegas and Albuquerque.
At Western, experienced and dedicated cancer experts work together in one location, sharing their knowledge, coordinating treatments and, ultimately, providing comprehensive cancer treatment tailored to you.