The 2014 BIO International Convention, where the global biotech community meets, connecting the people, companies and innovations that help to fulfill the promise of biotechnology through healing, fueling, and feeding the world, concluded today at the San Diego Convention Center with a record number of partnering meetings. Hosted by the Biotechnology Industry Organization (BIO), the event drew 15,667 industry leaders, including nearly 2,500 CEO's, from 50 states and 70 countries.
"This year's BIO International Convention brought to San Diego leaders in industry, government and academia to help further the promise of biotechnology," said BIO President & CEO, Jim Greenwood. "From our outstanding keynote speakers, to the record number of partnering meetings, the 2014 Convention was a resounding success. This event continues to provide biotech leaders with the opportunity to showcase the best of our industry."

Mara Aspinall, President and CEO of Ventana Medical Systems, Inc., a Member of the Roche Group shares insights on the EY Global Insights Super Session with panelists  Philip Birch of Aptiv Solutions; Brian Daniels, M.D., of Bristol-Myers Squibb; and BIO Board Chair Rachel King of GlycoMimetics, Inc
The Convention featured dynamic Keynotes from Sir Richard Branson and Former Secretary of State Hillary Rodham Clinton, over 800 speakers and 160 sessions in 8 educational tracks and 9 specialty forums which addressed the latest business opportunities, breakthroughs in medicine, diagnostics, the environment, energy production, food and agriculture and more. Arizona leaders took the stage in educational sessions including focused on  increasing the ROI of Innovation, Drug Development and the Critical Path Initiative, and Stem Cell Therapies .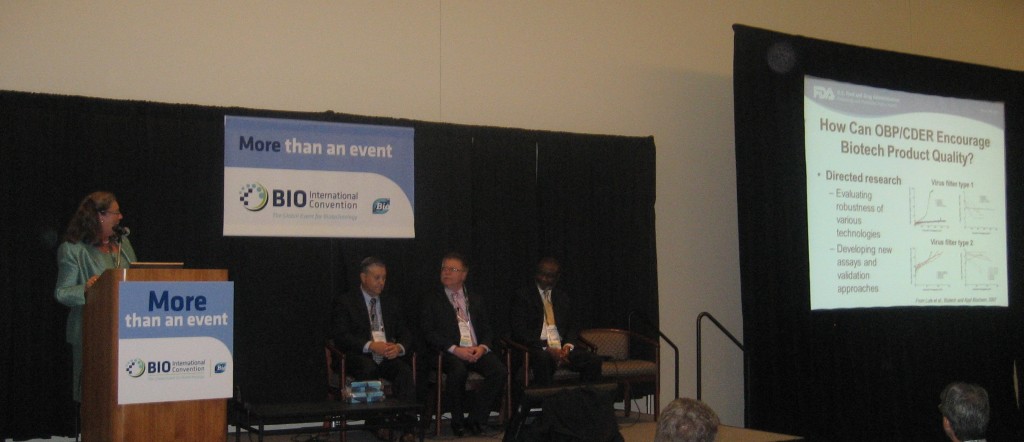 AZBio's Joan Koerber-Walker kicks off the
Increasing the ROI of Innovation Panel
with Martin Van Trieste, of Amgen, Kurt Brorson of FDA/CDER, and Jim Hamilton of JE Hamiltion and Associates.
Mayor Jim Lane of Scottsdale and Mayor John Lewis of Gilbert were on hand to meet with companies and represent our State and took time out of their buzy schedules to attend an educational session and tour of the drug development facilities of Pfizer in LaJolla with AZBio CEO Joan Koerber-Walker.
The BIO Business Forum hosted a record-breaking 29,000+ scheduled one-on-one partnering meetings between more than 3,100 companies, and featured 192 company presentations including Arizona companies NuvOx Pharma, SenesTech.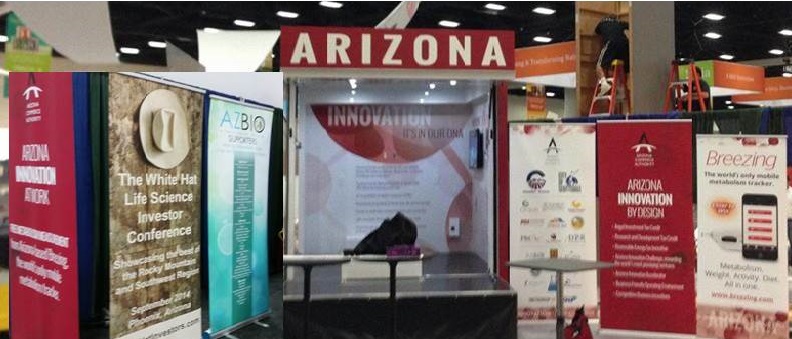 The Arizona Pavilion, hosted by the Arizona Commerce Authority and companies. institutes, and communities,  featured a new display  showcasing  how Innovation is in our DNA and live demonstrations from ASU Biodesign spin-out Breezing. The BIO Exhibition featured more than 1,800 exhibitors and covered over 160,000 square feet with 55 State and International Pavilions.
BIO 2014 was also the place where big announcements and new reports were released including:
AZBio focused its activities at BIO 2014 on addressing our key objectives of creating access to capital opportunities and forming strategic partnerships for our AZBIo Member Companies.  With over 40 meetings throughout the week, we met with venture capitalists, global strategic investors and patient foundations sharing the stories of what is happening across our state and extending invitations to fly in for Arizona Bioscience Week's exciting activities including the 2014 AZBio Awards on September 17th and the White Hat Life Science Investor Conference on September 18th.  
BIO 2014 was our opportunity to make connections and  gather data.  
Now it is time to use the data and build on these connections to create new opportunities for Arizona's Bioindustry.