The Southern Arizona Leadership Council (SALC) is proud to welcome Colleen M. Niccum as its Vice President of Education Policy.
Niccum recently retired from Raytheon Company following a 30-year career in the defense industry as a communications executive. During the past five years, she focused on expanding Raytheon's community partnerships; improving science, technology, engineering and math (STEM) education in Arizona; and working with state and local government leaders to support the defense industry in Arizona.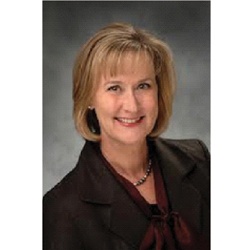 She has served on a number of nonprofit boards, including Tucson Values Teachers, the Educational Enrichment Foundation, the Tucson Metro Chamber, Tucson Regional Economic Opportunities, Inc., Expect More Arizona and UA College of Education advisory board. Niccum also is a governor appointee to the Arizona Ready Council, which oversees the state's education reform efforts.
"Colleen Niccum is a recognized private sector education expert who has earned the great respect and trust of SALC members for her business perspective on education.  She is a superb leader who is uniquely qualified to lead SALC on education issues," said SALC President Ron Shoopman.
SALC Chairman Mike Hammond stated, "We are thrilled that Colleen Niccum has joined the SALC team bringing her knowledge, commitment and passion for education to the group.  Under her capable hand SALC will continue as a recognized leader in education in our region and in our state."
As a member of SALC, Niccum co-chaired the P-20 Focus Area guiding SALC work to support education locally and statewide. In 2008 she helped found Tucson Values Teachers, a nonprofit dedicated to recruiting, retaining and supporting teachers in Southern Arizona classrooms, and she served as TVT's first Board President. In partnership with TVT, the UA College of Education and Science Foundation Arizona, she also helped establish and champion the Teacher in Industry program, which has provided valuable high-tech work experience to more than 50 middle and high school math and science teachers in Southern Arizona. As a result of these contributions, the Greater Tucson Leadership organization named Niccum Tucson's 2013 Woman of the Year.
"I am excited about the opportunity to work with the Southern Arizona Leadership Council on education issues," Niccum said. "Arizona's future depends on a strong education system, and it is critical that business leaders play a role in driving improvements."
The Southern Arizona Leadership Council is a non-profit CEO leadership organization that engages issues of strategic importance to Tucson and Pima County, ranging from the economic climate to education and infrastructure. SALC's members include 115 CEOs and community leaders from Southern Arizona.