Leading Women's Social Health Company Earns Prestigious Industry Accolade With an eHealthcare Leadership Award — Best Overall Internet Site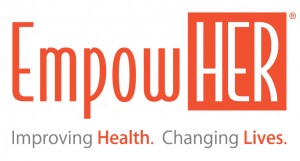 SCOTTSDALE, AZ–(Marketwire – November 10, 2011) –
EmpowHER, an award-winning social health company for women, was recognized this week with a 2011 eHealthcare Leadership Award in the Consumer General Health Site category. The Silver Award for Best Overall Internet Site recognizes EmpowHER's outstanding achievement in website design, content and community. This announcement comes on the heels EmpowHER's recent honors including the AZBio
Fast Lane Award, a W3 2011 Silver Award, being ranked in Greatist's 45 Most Innovative Health and Fitness Startups, and being named a Finalist in the Stevie Awards for Women in Business in two categories — Best Overall Company of the Year and Most Innovative Company of the Year.
The eHealthcare Leadership Awards program exclusively recognizes the industry's BEST websites of healthcare organizations, online health companies, pharmaceutical/medical equipment firms, suppliers and business improvement initiatives. The awards highlight the Internet's role in achieving an organization's business objectives and recognize the work gone into creating outstanding health websites. This year's competition was particularly competitive with well over 1,100 entries across 17 categories.
"It is an honor to be recognized in a category with peers that have each left their own indelible mark on the digital health landscape," says EmpowHER Founder, Chairperson and CEO Michelle King Robson. "Three years ago when we launched EmpowHER.com, my vision was to create the resource for women's health that I wish I'd had when I struggled with my own health issues. Now, we're reaching millions of women each month, answering their questions and giving them the tools they need to advocate for their health and wellness. We are proud of the unique role we play in the emerging social health space, all while staying true to our core mission of improving women's health and changing their lives."
What truly makes EmpowHER distinctive is the site's unparalleled social health community. With nearly 60,000 members and 260 community groups, women are making meaningful connections with one another about their health and wellness. The site's community is made up of real women supporting one another by sharing first-hand experiences and offering advice, so that all women have a voice when it comes to their own health. In addition to this, EmpowHER's unique ASK feature allows site members to ask health questions, with the promise of an expert answer in 24 hours or less.
Since its launch in 2008, EmpowHER has achieved a leading position in the women's online health and wellness space. The company is now the fastest growing and most robust social health community for women — categorizing over 700 women's health conditions and wellness topics, and has created nearly
110,000 pieces of original video, articles and user-generated content — representing both the largest taxonomy of women's health conditions, and one of the largest libraries of women's health content on the web. The company has also experienced 4-fold growth in social media followers amassing a vibrant
social network of over 41,500 fans and followers on Facebook and Twitter.
About EmpowHER Media
EmpowHER Media is an award-winning, HON-certified, social health company for women. The Company's flagship and Top 5 women's health and wellness site and community — EmpowHER.com — is the home for female health consumers on the Web with a unique consumer value proposition of social community and premium, original women's health and wellness content. Health care professionals, brands and agency professionals rely on EmpowHER Media for reaching the most influential health and wellness buyer on the Internet — women. EmpowHER expects to reach more than 60 million women onsite and through syndication in 2011, and more than 100 million in 2012.
Source:  EmpowHER Media
Press Contact for EmpowHER: 
Hallie Kenney, EmpowHER | (480) 684-0971
hkenney@empowher.com