Surgical Robot, Play Hospital and Physics Bus Were Hits at the Family Friendly Event
More than 6,500 children and parents enjoyed a day full of science, technology, engineering, math and medical activities at the third annual Connect2STEM, an event presented in partnership by the University of Arizona and Cox Communications and held on the UA College of Medicine – Phoenix campus in downtown Phoenix.
The kickoff for this year's Arizona SciTech Festival — a month-long campaign promoting science events across the state — was meant to inspire kids about STEM careers.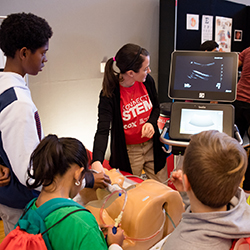 Ultrasounds in the Bioscience Zone
Kids clustered around 100+ fun science activities, including: "exploding" toothpaste experiments led by students from the UA College of Pharmacy; cow eye and pig heart dissections led by first-year medical students from the College of Medicine – Phoenix; and fire and soap demonstrations by the Physics Factory. The youngest attendees took stuffed animals for checkups at the Wildcat Play Hospital (pictured above), staffed by UA College of Nursing students.Other UA divisions and departments on hand were the Lunar and Planetary Laboratory, the College of Architecture's Planning and Landscape Architecture, the College of Agriculture and Life Sciences, Maricopa Agricultural Center, Project WET, the UA Cooperative Extension and Wildcat Water Lab, Roosevelt Early Childhood Family Resource Center, the UA Police Department, the Office of Admissions, Eller College of Management and Arizona Athletics.
The day-long event featured exhibitors from all three of the state's universities, including the Northern Arizona University Physical and Occupational Therapy programs and Arizona State University's Neuroscience School of Life Sciences, as well as their Science is Fun outreach program.
Professionals from businesses and local community organizations also took part, such as APS, Intel, the Challenger Space Center of Arizona, Children's Museum of Phoenix and the Arizona Science Center. Several local high schools were represented, too, with their robotics displays. South Mountain and Mesa Community Colleges had technology displays, as well.
In addition to Cox Communications, the event was sponsored by the Arizona SciTech Festival, APS, the Arizona Community Foundation, the City of Phoenix Public Works Department, Southwest Airlines, DPR Construction, Boyer Company, Sundt Construction and Standard Parking.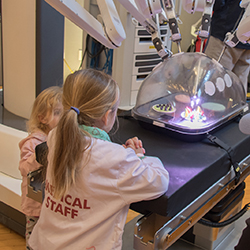 da Vinci Surgical Robot
"One of our pillars at the UA College of Medicine – Phoenix is Community, so this event falls in line with our mission of being a university for all," said Allison Otu, senior director of marketing and communications for the college. "We are thrilled with the extraordinary turnout, from the 6,500 who attended to the 200 passionate volunteers who spent their Saturday making science really fun. We hope to see these youth pursue careers in the next decade in engineering, health and research."Attendees who completed surveys after the event raved about it.
Among the comments were Christine Pond's remarks: "My daughter attended with her Girl Scout troop. It was very hands-on, organized and perfect for all ages. Her favorites were the sustainability and bioscience tables and the surgery section, as well as the helium bubble machine and virtual reality booth. This truly is a must-see event. Thank you Cox Communications, APS, ASU, UA, NAU and all the other sponsors."
Amy Lucero-Carbajal said her 6-year-old son couldn't wait to move from booth to booth to do more activities. "I personally really appreciate how it exposed him to so many different areas of STEM. Thank you, great event."
Aside from the main Connect2STEM offerings, the day also featured Connect2Mentors, an effort to inspire, enrich and engage youth of color in careers related to STEM fields.
Media Contact:
Marian Frank(link sends e-mail)
Phone: 602-827-2022