The city of Phoenix is a step closer to developing the Arizona Biomedical Corridor near Mayo Clinic's hospital in north Phoenix. Hear Mayo Clinic Arizona CEO Wyatt Decker talk about new corridor.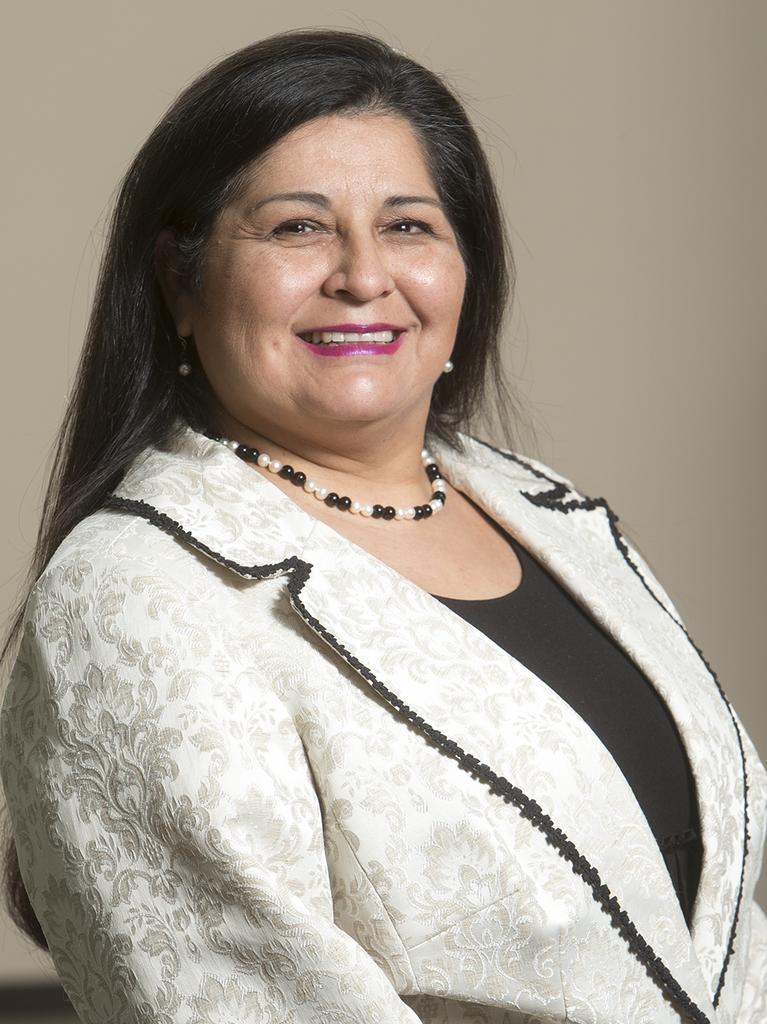 Senior Reporter-Phoenix Business Journal
© 2014 American City Business Journals.
(Reposted with permission)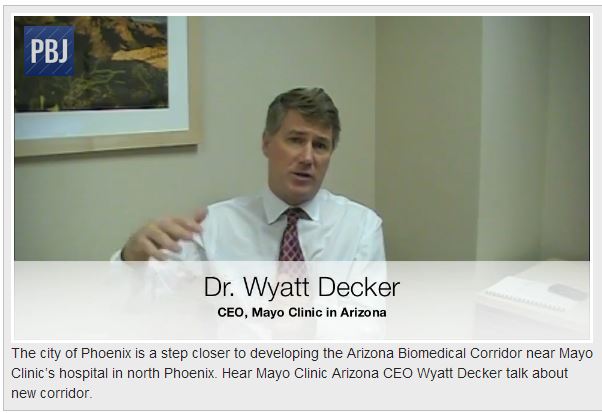 Click here to view the video at the Phoenix Business Journal.
The city of Phoenix is a step closer to developing the Arizona Biomedical Corridor near Mayo Clinic's hospital in north Phoenix.
Mayor Greg Stanton and the city council approved the Phoenix Industrial Development Authority to issue up to $180 million in revenue bonds to finance Mayo Clinic's new proton beam radiation therapy center. The council also approved a two-year extension of its agreement with Mayo and Arizona State University to continue to work together to develop the Arizona Biomedical Corridor.
Stanton said KUD International, a private developer, has submitted an application with the Arizona State Land Department to develop biomedical and advanced technology research on the site.
Plans call for securing 225 acres of land by the end of the year.
The biomedical corridor will be anchored by Mayo's hospital and proton beam radiation therapy center.
Dr. Wyatt Decker, CEO of Mayo Clinic in Arizona, said goals include strengthening connections among science, research, education and clinical care; supporting evolution of life sciences, genome and wellness fields.
"And it will further strengthen the region's growth as a national and international destination for health care related research, education and private sector interests," he said.
Long term, Stanton estimates that the biomedical corridor will employ upwards of 30,000 people.
"I want to make sure we don't look back on this 10 or 15 years from now when a bunch of strip malls are built around the Mayo campus," Stanton said. "I want to get it right the first time."
Vanessa Hickman, state land commissioner, said this land transaction will be a great opportunity to generate revenue for the state.
She said land appraisals aren't in yet but she is seeing pre-recession land prices. For example, Scottsdale-based Taylor Morrison Home Corp. paid $28 million for 105 acres to build homes near Desert Ridge.
While it's not an apples-to-apples comparison, that transaction shows that comps in the area are on the rise.
Long term, the biomedical corridor would be 600 acres near Mayo's hospital campus, extending north to Loop 101, to the Central Arizona Project canal between State Route 101 and 64th Street. KUD's initial application is starting with 225 acres.
"To attract an international developer like KUD is really amazing," Hickman said. "It's good for everybody in the area, and it's good for the state."
This partnership between Mayo, ASU and Phoenix is another great example of what happens when Arizona activates its collaborative gene and moves from plan to action, said Joan Koerber-Walker, president and CEO of the Arizona BioIndustry Association.
"The growth of the Arizona Biomedical Corridor adds significantly to the ring of leading-edge cancer care facilities that surrounds the Phoenix Metro and also lives at its heart in downtown Phoenix," she said. "Investments in health care innovation and the facilities that deliver it are smart investments. They improve the quality of life of our citizens while they enhance both our community's reputation and our economy."
For more information on the growing relationship between ASU and Mayo, see tomorrow's print edition of the Phoenix Business Journal.
Angela Gonzales covers health, biotech and education.