Ten Arizona Legislators Named AZBio Trailblazers By The Arizona Bioindustry Association In Recognition Of Their Leadership And Actions In Support Of The Advancement Of Arizona's Life Science And Healthcare Industry.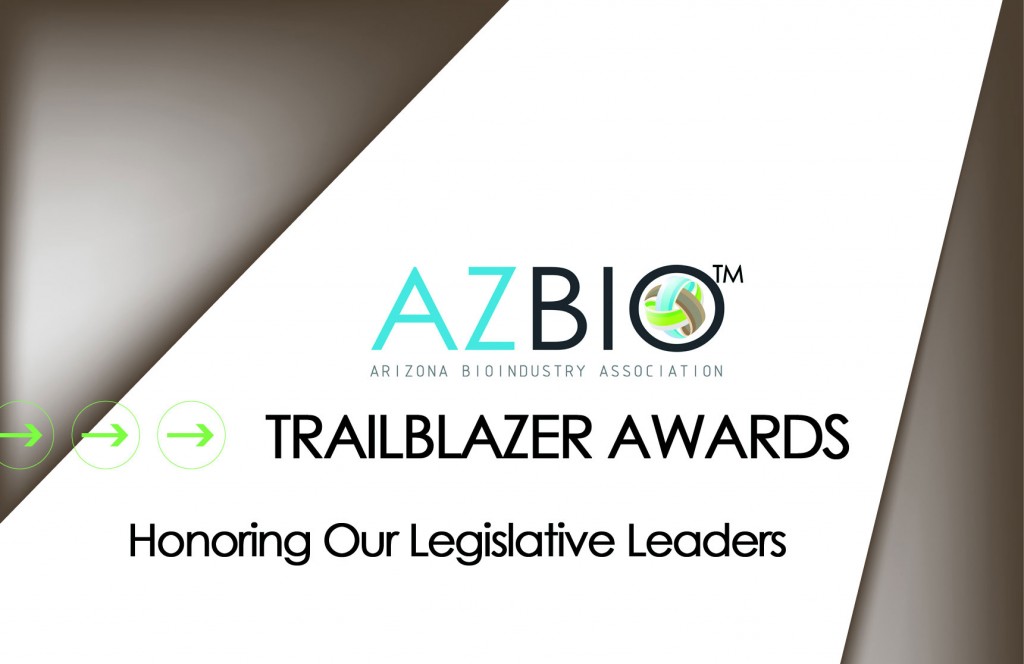 The Arizona Bioindustry Association (AZBio) today announced the ten Arizona Legislators who will be honored as AZBio Trailblazers in recognition of their leadership and actions in support of the advancement of Arizona's life science and healthcare industry on December 11, 2013 in Phoenix.
"Accelerating the growth of our life science industry here in Arizona requires leadership on a broad range of key issues including life science research, a high performing education system, growth capital, a supportive business infrastructure, and access to quality care," shared Glen Galster, chairman of the Arizona Bioindustry Association.  "Our elected leaders are our partners in ensuring that Arizona moves forward and up the ranks of global innovation and life science leadership."
Each year, AZBio looks back across the legislative session to identify those leaders whose actions and active engagement support the growth of Arizona's life science and healthcare industry and help to ensure the people of Arizona benefit from its success.  Scores are then tallied and the top ten legislative leaders are named the year's Trailblazers.
The 2013 AZBio Trailblazers are:
Representative Heather Carter (LD-15)
Representative Jeff Dial  (LD-18)
Senator John McComish  (LD-18)
Representative Debbie McCune Davis (LD-30)
Senator Steve Pierce (LD-1)
Speaker of the House, Andy Tobin (LD-1)
Senator Anna Tovar (LD-19)
Senator Kelli Ward (LD-5)
Senator Bob Worsley (LD-25)
Senator Kimberly Yee (LD-20)
The 3rd Annual AZBio Trailblazer Awards and Legislative Luncheon will be held Wednesday, December 11, 2013 at the Phoenix Country Club.
The reception will begin with a meet and greet at 11:00 AM followed by the Legislative Luncheon from 11:30 Am to 1 PM.
In addition to honoring the 2013 AZBio Trailblazers, the luncheon will feature a special keynote on "The Value  of Medical Innovation" delivered by Robert Hariri, MD, PhD , Chairman, Founder & Chief Scientific Officer Celgene Cellular Therapeutics.
"The AZBio Trailblazer Awards and Legislative Luncheon is a great opportunity for public and private sector leaders from across Arizona to come together to celebrate what we have achieved and to exchange ideas on how together we can move forward faster," added Joan Koerber-Walker, president and CEO of the Arizona Bioindustry Association. "We do not succeed alone.  By working together, we have created an environment supporting Arizona's rise to be ranked a top emerging bioscience state.  Our next steps will require even greater levels of leadership and partnership.  We must pick up the pace to earn our place as a global life science leader."
For tickets and more information, please click here.
About the Arizona Bioindustry Association (AZBio) – www.azbio.org
As Arizona's statewide life science industry association, AZBio works with companies and institutions across Arizona's life science and healthcare industries to support the discovery, development and delivery of life science innovations.  AZBio members include leading universities, research institutes and companies in the medical device, therapeutic, diagnostic, telemedicine, health IT, bioenergy, biomaterials and business sectors.
AZBio is the State Affiliate of the Biotechnology Industry Organization (BIO) located in Washington, D.C. and also collaborates on national issues with AdvaMed, PhRMA and other national and international organizations to move the Arizona Bioscience Industry forward faster.