Dr. Daniel D. Von Hoff, Distinguished Professor and Physician-In-Chief of the Translational Genomics Research Institute (TGen), will receive one of the top awards May 29 from the Arizona Medical Association (ArMA).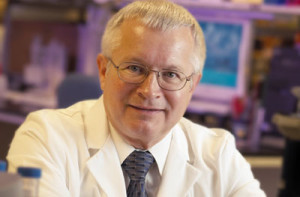 Dr. Von Hoff will receive the 2015 Wallace A. Reed, M.D. Award, recognizing his accomplishments in advancing innovative cancer treatments, said Dr. Nathan Laufer, President-Elect of ArMA.
"ArMA extends it wholehearted congratulations to Dr. Daniel D. Von Hoff for his many innovative contributions to the advancement of cancer care, especially in the realm of pancreatic cancer, one of the most difficult to treat of all cancer types," Dr. Laufer said.
Dr. Von Hoff's award will be presented at the 2015 ArMA President's Award Banquet Dinner, 7-9 p.m. May 29 at the Phoenix Country Club, 2901 N. Seventh Street. The President's Awards Banquet is held on Friday evening of each ArMA Annual Meeting, and honors the work of physicians, community members and organizations improving health care in Arizona.
"It is a profound honor to receive this award from my fellow physicians from across Arizona," said Dr. Von Hoff, who also is Professor of Medicine at the Mayo Clinic, and Clinical Professor of Medicine at the University of Arizona.
"We must continue to strive to provide the very best care for our patients. To do that, we must constantly make new discoveries to create new and innovative treatments to better their lives," said Dr. Von Hoff, who also is Chief Scientific Officer at US Oncology and at the Virginia G. Piper Cancer Center Clinical Trials at HonorHealth, formerly Scottsdale Healthcare, where TGen research discoveries are translated into new treatments for patients.
The Wallace A. Reed, MD Award recognizes innovation in health care by an individual or organization. It is named for the late Phoenix anesthesiologist, Dr. Wallace A. Reed, who more than four decades ago co-founded Phoenix Surgicenter, ushering in the era of outpatient surgical centers. The concept has been replicated nationwide, with more than 5,000 ambulatory surgery centers performing more than 22 million procedures each year. Dr. Reed passed away in 2014 at age 97.
The Arizona Medical Association (ArMA) is a voluntary membership organization for all Arizona medical and osteopathic physicians. It provides members with legislative advocacy, professional leadership, and 120 years worth of building community relationships.
ArMA's mission is to promote and provide leadership in the art and science of medicine; to preserve and improve the health of all Arizonans; to represent Arizona physicians in the public forum; and to defend Arizona physicians' freedom and ability to practice medicine in the best interests of their patients.