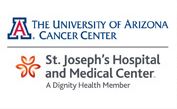 Ground was officially broken today on the new University of Arizona Cancer Center (UACC)  at St. Joseph's Hospital and Medical Center/Dignity Health outpatient facility in downtown Phoenix.
Located on the Phoenix Biomedical Campus at 625 N. Sixth St., on the northwest corner of Fillmore and Seventh streets, the center is expected to be open in 2015. The University is leasing the land from the City of Phoenix.
Under an affiliation agreement approved by the Arizona Board of Regents and Dignity Health Arizona, St. Joseph's, which is a part of Dignity Health, will operate inpatient clinical cancer services at its main hospital campus and outpatient services at the new downtown facility. Until the new facility opens the hospital will continue to provide outpatient services.
"We believe this facility and the extraordinary combined medical talents from St. Joseph's and UA Cancer Center will allow us to reach new heights in providing extraordinary cancer care," said Linda Hunt, president and chief executive officer, Dignity Health Arizona.
"This groundbreaking reflects the University of Arizona's commitment to bettering the lives of all Arizonans," said UA President Ann Weaver Hart. "We are most grateful to our partners and the City of Phoenix for helping to achieve this milestone. The potent combination of leading-edge research and exemplary patient care means that today is a new day for cancer patients in Arizona."
"The University of Arizona Cancer Center and the College of Medicine, both located on the Phoenix Biomedical Campus officially will make downtown Phoenix a world-class center for medical innovation and care," Phoenix Mayor Greg Stanton said. "Not only will the UACC be an economic engine for our city and state, contributing to our downtown urban core, but   we'll also be on the forefront of cancer care and finding the cure. Thank you to our partners at UA and St. Joseph's for working with the City of Phoenix as we continue to work together toward a strong future."
Follow the project's construction progress at phoenixcancercenter.org
For More Photos of the ground breaking ceremonies click here.
The construction is the latest project for the Phoenix Biomedical Campus, which is anchored by the UA College of Medicine – Phoenix and includes the Translational Genomics Research Institute. The university colleges of public health, pharmacy and nursing all have activities on the downtown Phoenix along with programs from Northern Arizona University's College of Health and Human Services.
#    #    #
About The University of Arizona Cancer Center
The University of Arizona Cancer Center is the only National Cancer Institute-designated Comprehensive Cancer Center headquartered in Arizona. The UACC is supported by NCI Cancer Center Support Grant number CA023074. With primary locations at the University of Arizona in Tucson and at St. Joseph's Hospital and Medical Center in Phoenix, the Cancer Center has more than a dozen research and education offices in Phoenix and throughout the state and 300 physician and scientist members who work together to prevent and cure cancer. For more information, go to www.arizonacancercenter.org
About St. Joseph's Hospital and Medical Center
Located in the heart of Phoenix, Ariz., St. Joseph's Hospital and Medical Center is a 607-bed, not-for-profit hospital that provides a wide range of health, social and support services with special advocacy for the poor and underserved. St. Joseph's is a nationally recognized center for quality tertiary care, medical education and research. It includes the internationally renowned Barrow Neurological Institute, the Heart & Lung Institute, Muhammad Ali Parkinson Center, and a Level I Trauma Center verified by the American College of Surgeons. U.S. News & World Report routinely ranks St. Joseph's among the best hospitals in the United States for neurology and neurosurgery.
Contacts:
Sara Hammond, UA Cancer Center, (520) 626-2277 or shammond@uacc.arizona.edu
Lynne Reaves, St. Joseph's Hospital and Medical Center, (602) 406-4734 or lynne.reaves@dignityhealth.com
Al Bravo, UA College of Medicine – Phoenix, (602) 827-2022 or bravoal@email.arizona.edu