Over the last decade, Arizona's bioscience sector has made amazing progress in building foundational infrastructure for research and discovery in the life science sector.  This next decade of focused collaboration is  our opportunity to move up the ranks and along the path from Discovery to Development to Delivery.
Ten years ago there was no
TGen
IGC
Biodesign Institute at ASU
Keating/BIO5 Facility at UA
Phoenix  Biomedical Campus
New Applied Research and Development Building at NAU
Today, these research resources and many more serve as magnets to attract and support state of the art bioscience discovery in Arizona.
Economic Impact
By activating "Arizona's collaborative gene" we have seen growth in our economy as well as in our  talent base: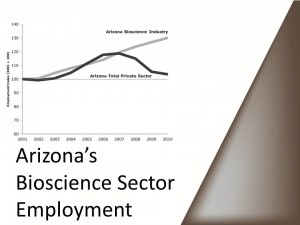 Bioscience Employment rose 41% from 2002 – 2012 with growth even iin the darkest days of the recession.
The number  of Bioscience forms are up 27% in the same period.
Overall economic impact for Arizona's bioscience sector is  $28.8 Billion  with $1.1 Billion in taxes paid annually.
We've come a long way, but  there is still more road to travel.
Released in June of 2012, the Battelle/BIO State Bioscience Industry Development Report, shows that significant levels of research and development in bioscience industries continuously drive innovation and new product development.  The report also provides the positioning and programs by state for comparison.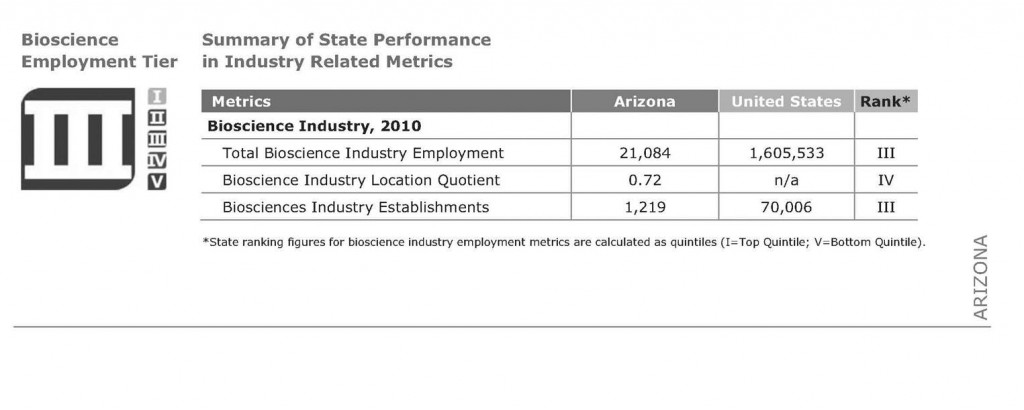 To move up the ranks from Tier III to Tier II and ultimately take our place as a Tier I Bioscience State, Arizona must bridge the gaps we have today between Discovery (D1), Development (D2), and Delivery (D3).    This requires us to continue to support the investments of the past decade while creating new competitive advantages that will attract and keep the best life science companies AND life science talent here in  our state.
On December 13, 2012, AZBio unveiled its 2013 public policy initiatives. Drawn from best practices and national benchmarks, each is a new opportunity to enhance competitiveness and move us up the ranks.
Tip #2 in our Count Down to 2013
#2 – Find New Ways to be More Competitive
Making 2013 your best year yet requires new strategies AND initiatives that support your strategic plan.  Identify where you are, where you are going and then build that bridge out of what you need to get you there.
Check out the rest of the Top Five Tips Countdown:
#3 – Leverage Strategic Partnerships #4 – Let AZBio to help you "connect the dots." #5 – Connect and Compare Notes