AZBio is pleased to announce its sponsorship and offer our members a special discount to attend:
Life Sciences & Healthcare
Venture Summit
March 28, 2012 | Digital Sandbox | New York City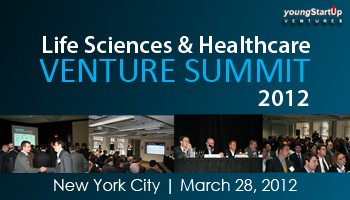 Join leading industry influencers, VCs, Corporate VCs, angel investors, investment bankers, incubator managers and CEOs of some of the most promising early stage and emerging growth companies at the 2012 Life Sciences & Healthcare Venture Summit being held on March 28th at Digital Sandbox in New York City.
This exclusive Venture Summit will bring together over 350 Top-tier Venture Capitalists, Private Investors, Corporate VCs, CEOs of cutting edge startups and Strategic Service Firms and will feature more than 40 leading VCs on interactive panels; Presentations by 50 Top Innovators; and high-level networking opportunities.
A partial list of VCs confirmed to speak includes:

Isaac Ciechanover Partner Kleiner Perkins Caufield & Byers,  David Coats Managing Director Correlation Ventures, Suzette Dutch Managing Partner Triathlon Medical Ventures,  Bill Harrington Managing Partner Osage Ventures,  Bosun Hau Investment Partner MVM Life Science Partners,  Mike Kaplan Founder and Managing Director Altos Health Management,  Daniel Kosoy Partner Athenian Venture Partners,  Noah Kroloff Partner NGN Capital,  Al Lauritano Director / Technology Licensing & Collaboration BD Technologies,  Corey McCann Principal MPM Capital,  Ilya Nykin Managing Director Prolog Partners,  Heather Preston Managing Director TPG Biotech,  Brian Underdown Managing Director Lumira Capital,  Robert Weisskoff Partner Fidelity Biosciences,  Tom Weldon Chairman, Managing Director Accuitive Medical Ventures,and many more.
AZ Bio has made special arrangement for our members to receive a special discount of 10% off the current registration rates. 
To Register Now and take advantage of the special discount click the link below and enter discount code "AZBIO". Special discount available for limited time – http://www.youngstartup.com/lifesciences2012/overview.php
CALL FOR TOP INNOVATORS!
Get Noticed > Get Funded > Grow Faster
A select group of 50 Top Innovators from the Biotech, Pharma, Healthcare, Healthcare IT, Medical Devices, Diagnostics, and Life Science sectors will be chosen to present their breakthrough investment opportunities to an exclusive audience of Venture Capitalists, Private Investors, Investment Bankers, Corporate Investors, and Strategic Partners.
Advance applicants for presenting slots are eligible to be chosen during the early-bird selection process ending on January 31st, 2012.

Apply to Present: 
To be considered for one of the Top Innovator slots, please e-mail iwant2present@youngstartup.com for an application.
To Nominate a Company: 
To nominate a company please forward: company name, main contact at firm, contact details and why you think they should present to nominations@youngstartup.com .
 We hope you can join us for the exclusive forum.
AZBio  & youngStartup Ventures
To inquire about group rates, register by phone or for more information contact:
Avi Maderer of youngStartup Ventures at 212.202.1002